Ernest Hemingway was born 112 years ago today. To celebrate, we've been drinking grappa out of a calfskin flask, hunting gazelles, and contemplating the savage grace of war between men.
Others have taken to the Internet to show their affection for Papa. The Tumblr site for publisher W. W. Norton has a nice excerpt from Michael S. Reynolds' book Hemingway: The Paris Years about how the writer rang in his 23rd year.
"On July 21, Hemingway's twenty-third birthday passed without fanfare in the summer heat of Paris. His parents sent him handkerchiefs which he said he appreciated (all good boys keep their noses blown). Headlines proclaimed that Lenin's brain was paralyzed, his rule finished. Once a month the papers declared the bolshevic revolution moribund. A new Paris-to-London record of one hour and forty-two minutes was set by a British flier in a Hangley-paide, and the St. Louis Browns were in first place in the American League, a game and a half ahead of Babe Ruth and the New York Yankees. Ernest and Hadley, in Paris for only a month, were planning their next adventure."
Another person recognizing the life of the great writer is his great-granddaughter, Dree Hemingway. She alerted her Twitter followers in this manner:
But of course it's too hot for any outdoor festivities, so Dree celebrated the birth of the great American writer by getting her hair done.
"Maintaining hair," she tweeted.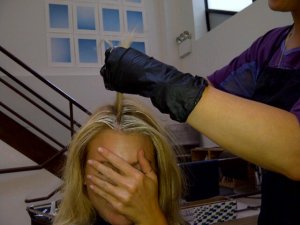 Dree! Why are you putting your small hand in front of your pretty face!
Oh, look. Now fashion gadabout Derek Blasberg is getting in on the fun, too.
So Hemingway's birth is celebrated on Tumblr, Twitter, and BBM. Maybe we are all a lost generation.