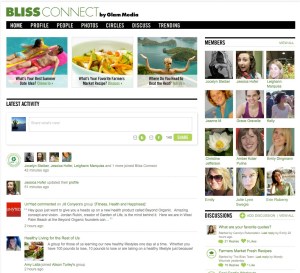 Lifestyle blog machine and digital advertising heavyweight Glam Media announced two changes today. First, it has added a health and wellness vertical, Bliss.com, a slight departure from its fashion advertising-focused business.
Glam has also launched a proprietary publishing system, GlamCreate, which will regularize and organize all of the editorial material coming in from its 4,000 or so odd "digital content creators."
GlamCreate comes with a built-in social network for bloggers, GlamConnect. Like Glam Media's advertising business, GlamConnect is vertically restricted, creating very narrow social networks of people with the same interests (health and wellness) and vocation (blogging about health and wellness) to sell ads against.  
If you would like to meet other people content producers passionate about  "Summer Snacks That Won't Blow Your Calorie Budget," GlamCreate and GlamConnect are already enabled on Bliss.com.