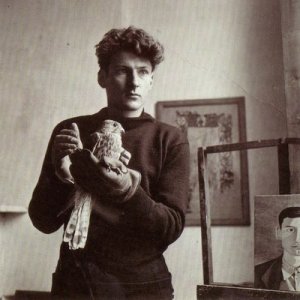 In Artnet, Jerry Saltz wrote a complex goodbye letter to Lucian Freud, who died Wednesday at age 88, by announcing, "I don't particularly like Freud's work" only to declare, "I love Freud" in the next paragraph. He says Frued had "maniacal painterly control" and "the life of his art seems to drain away" in almost the same breath. It's no easy task to convince a reader the reason you love something is because you dislike it so much, that the very stagnancy contributing to the disdain for a work is the crux of its relevance. But Mr. Saltz is no ordinary critic:
For the longest time, Freud seemed a throwback, someone who addressed and battled School of Paris painting. As the world lurched away from French traditions, toward abstraction, pop, and beyond, Freud seemed to stand still.

Yet this is his salvation — and what makes him such an important artist to come to terms with. He is so dogmatic and insistent on doing what he does in spite of whatever trends come and go, while at the same time being world-famous and famously consistent, that his art now exists as a champion island in the mainstream for artists. Every artist will one day face the moment when he or she is doing what he or she does after the style has passed and the art-world heat-seeking machine has moved on.
Read the full piece here.