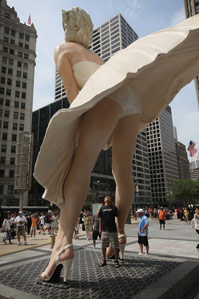 Artinfo has a round-up of the growing litany of complaints against Chicago's hideous Marilyn Monroe sculpture, Marilyn Forever, offering the following reasons for why it should go away:
-It's sexist
-It's kitsch
-It has nothing to do with Chicago
-It caused a divorce
Check! The former three we think speak for themselves, but that last one needs some explaining. Apparently, Joe DiMaggio was so perturbed by the racy scene in Billy Wilder's The Seven Year Itch replicated by the 26-foot tall monstrosity, it led to the couple's divorce.
Artinfo also includes an absolutely ridiculous British news report about the statue's unveiling last Friday. Here's the text, in its entirety because it's that good.
The Windy City is the perfect place for Marilyn Monroe's billowing dress! In Chicago now stands an 8-meter statue of the actress in her iconic pose. Tourists have wasted no time getting into prime position so they can get a good look of her fantastic knickers! [Tourist stands beneath legs with big smile, pointing up] Now the actual white dress was worn by the movie star in the film The Seven Year Itch and sold for more than $4.6 million at an auction last month, a fact that this super fan would know.

[Cut to random man on the street]: Yeah I was, like, looking at the statue, I collect Marilyn memorabilia and I saw this comin' up, like, this whole week the unveiling, like from her legs up and it was unbelievable.

The city of Chicago will get to keep Marilyn in all her glory until next spring.
Next spring! For almost a whole year this atrocity will be making people unhappy. The Chicago Sun Times says people are licking the sculpture's leg and "pointing at her giant panties as they leer and laugh." The entire sculpture, not just the "giant panties," is one of the most hideous and unnecessary piles of material—we will not call it "art"—we've ever seen. People are already rallying for it to be taken down.