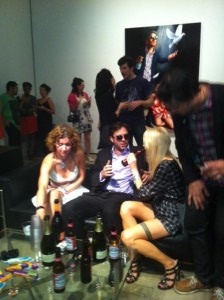 A crowd of people was standing around awkwardly in Marlborough Gallery in Chelsea last night. They were there for a site-specific project by William Powhida that a press release promised was the artist's "most ambitious installation to date." The details were kept a secret. The gallery was empty save for two roped off couches facing each other and a hideous oil painting hanging on the wall behind them. The room smelled like licorice from the free Pernod-Absinthe. The crowd was a mix of suits and dresses and sneakers and tattoos. They drank heavily for some time, looking like they had missed something.
"I have no idea what's going on," Anthony Haden-Guest said with a frown, leaning against a wall in the back. "This doesn't look like the usual art crowd."
The garage door at the front of the gallery started to open and a row of people leaning against it spilled some of their drinks in surprise. Mr. Powhida was being driven down W. 25th Street in a dark green Mercedes convertible. He sat in the back with his arms around two beautiful blond women. He was drinking from a bottle of champagne. The car parked in the gallery in front of a wall that said POWHIDA. He posed in front of his name and drank straight from the bottle. He was wearing a suit with a purple shirt underneath it and sunglasses.
"Well I'm bored as fuck," he said and entered further into the gallery, taking a seat on one of the roped off couches. He was joined by a few friends, one of them the owner of Roberta's in Bushwick (his girlfriend was one of the blonde women). A few people gathered around the couches. Many remained disinterested. He walked up to the oil painting. It featured a man in a black suit and a purple dress shirt with sunglasses releasing a white dove from his hands. A blonde woman with her breasts nearly exposed was clutching his leg. It was called Powhida (Portrait of a Genius).
"I think it's great," he announced and took a seat again. He began drinking heavily and smoking cigarettes. They were Marlboro Reds. The joke was becoming stale. The Observer wanted something to happen.
"Can I have some champagne?" The Observer asked Mr. Powhida.
"I don't see why not. Would you like champagne or a Budweiser?"
"Champagne."
"No! Give him a Budweiser!" The beautiful blonde woman said venomously.
"How about a Budweiser?" said Mr. Powhida. "We're running low on champagne."
He reached into a mini fridge and gave The Observer a bottle of Budweiser. Once more, very little happened. After a while, Mr. Powhida called out for an assistant and ordered him to remove the oil painting from the wall and to turn it around. The assistant did so. After a couple of minutes, a few handlers carefully re-hung the painting properly. Again, The Observer was bored. Performances like this only work if there is some follow through. No one was being provoked. Mr. Powhida was simply pretending—half-heartedly—to be an asshole. When the artist's back was turned, The Observer entered the roped off area. He lit a cigarette off of one of the beautiful blonde women's and smoked.
"Get the fuck out of here!" Mr. Powhida said. "Who the fuck are you? What are you doing in here?
"Excuse me, sir," Eric Gleason, one of the gallery's directors, told The Observer sternly, "You can't smoke in here."
"I gave you a beer! What the fuck are you doing in here?"
Mr. Powhida ripped the cigarette from The Observer's mouth.
"You should put it out on the painting," The Observer suggested. He stomped it out on the ground.
Later at the after party, one of the beautiful blonde women was running the guest list. She looked bored.
mmiller@observer.com