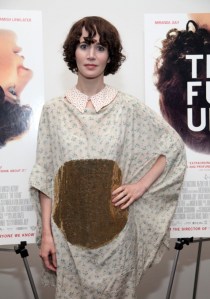 Independent filmmaker Miranda July knows about abandoning a work in progress.
While scripting The Future, her follow-up to breakout hit Me and You and Everyone We Know (the new film opens July 29), Ms. July met writer's block and couldn't find a realistic way to get the character of Jason, who sells trees, to enter the homes of strangers and experience a revelation. "Jason was supposed to really discover himself through giving up all goals and ambitions. I knew there had to be some kind of event that changed him. And I had written a million versions of what that event could be."
One of these versions involved a mass of pink dough. "I don't remember how the Play-Doh came to be, but at one point there was this huge mass of pink dough that he was bringing with him. I don't even remember what people did with it." She chuckled softly and stretched an invisible piece of dough in her hands. "I just remember this pink dough epiphany. Oh, it's all going to be okay as long as I have this large mass of pink dough in it."
That's when she realized she needed to distance herself from the work. She scrapped the idea and called a bunch of arbitrarily selected people who were selling things in the PennySaver, the L.A. classifieds that came in her junk mail every week.
"I started interviewing people in the PennySaver to get out of my tiny, shrinking world," she said. "And then I met Joe."
Joe, an 81-year-old retired housepainter, invited Miranda July into his home and touched her life, just as he welcomes Jason into his house and changes his perspective in the movie. "He was a very moving, energetic, soulful person," July said. "What's in the movie is pretty minor compared to what knowing him was."
What fascinated her was the fact that for sixty years, Joe made for his wife nine dirty limericks a year involving exposed genitalia and the like. Then there was the uncanny coincidence that Joe met his wife at a lake in Michigan called Paw Paw, which shares its name with the character of the cat in the film.
In front of the camera, July let Joe ad-lib and "speak in his own language," while the other, trained, actors received tightly scripted lines. She referred to him fondly as "friend" and became noticeably morose when she talked about Joe's death on the day after she finished her movie.
"He never got to see the film," she said, gazing at nothing in particular. But, her writer's block now a thing of the past, July has written a book about Joe and the other characters she met through making The Future.
July said that her book, coming out in the fall and called It Chooses You, is about "that process of going out without a goal, being open to it choosing you, kind of like Jason does in the movie."
"The fact that it led back around is sort of magical."