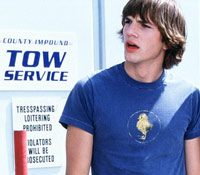 Twitter logs 200 million tweets a day these day, according to CNET.
Half of the tweets come from members of the media, and two-thirds of those are members of the media tweeting about Twitter and the media.
Ok so probably not, but that's how it seems to this blogger, because  the great (terrible) thing about Twitter is you only see what you subscribe to see, you are who you follow, @Narcissus gazing at the #pond, etc.
Ashton Kutcher launched a candid Twitter campaign against the Village Voice yesterday, in response to their takedown of his anti-underage sex trafficking organization, Real Men Don't Buy Girls. (Mike Lacey is rumored to have been manning the Voice's feed, which, having corresponded with the guy, we doesn't surprise us.)
A cunning self-promotion artist can use Twitter to send his unfinished novel to the top of the Barnes and Noble online store, according to the Wall Street Journal.
LA Times NFL columnist Sam Farmer says press boxes are no fun anymore because everyone saves their best jokes for Twitter.