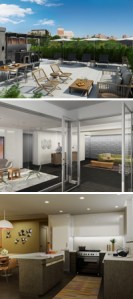 "We decided to prioritize the public amenities here," Beatrice Sibblies, one of the developers of the new condo, 88 Morningside, said at its opening party last night. "There's a larger lobby, media room, gym and roof deck. We did that to create a sense of community in the building."
That sounds familiar. Just last week, the ultra-trendy Aloft Brooklyn hotel opened, and we heard the same refrain: smaller units were swapped for bigger common areas in which people are encouraged to congregate. These hip new developments lean on a quaint suburban notion that seems to have been lost here: get to know your neighbors! Hang out with the people you (perhaps awkwardly) share elevators with! Who would have thought?
Of course, these new "affordable luxury" buildings also draw interest with contemporary design—the dark hardwood floors, sleek granite counter tops, shiny kitchen appliances and floor-to-ceiling windows. And, of course, rooftops with greenery, city views and kitchen areas.
"The roof is beautiful," said Halstead's Stephen Kliegerman, who runs marketing for the building on the border of Harlem and Morningside Heights. "When you render it you're never quite sure if it'll look like what you've envisioned, but this came out as good or better."
About 80 people mingled on the 12th-floor, which was set up with patio couches, lounge chairs, big umbrellas and white-linen-topped tables, and guests enjoyed classy cocktails and finger food (chicken kebabs, anyone?). It was your typical summer cocktail affair, enhanced with jazz music to match the uptown vibe.
And this isn't the first event held to show off the building. "We also had a Man Cave event," a sales agent told The Observer during a tour of the model units, speaking of an apartment with a smaller extra room they were trying to move.
Apparently, no bachelors took the bait; the extra room in said apartment has now been transformed into somewhat of a hipster children's room, with alphabet artwork, a portrait of Abe Lincoln and odd-looking stuffed animals. Mr. Kliegerman did mention the building had seen a lot of strollers come through during the winter.
Buyers with families, however, aren't the only demographic the building has attracted. One broker told us that international buyers—the French in particular because "they love the jazz" in Harlem—and Columbia professors and administrators have also been interested in 88 Morningside.
There haven't been any closings yet, though; Mr. Kliegerman said they hope to begin closings in about 45 days, and they already have about 58 percent of the 73 units in contract. Prices range from $415,000 to $880,000 for anywhere from 735 to 1,270 square feet of space.
pengel@observer.com