In the immortal words of Justin Timberlake: what goes around, goes around, goes around, is going to come back around. Rupert Murdoch is no doubt singing the sad song of karma repurposed, today, as hackers have reached the website of one of his (remaining) news properties, The UK Sun.
It looks like Lulzsec—the notorious hacking group—has taken over the homepage of Murdoch-owned The Sun, with a fake article about Rupert Murdoch dying at the hands of some chemicals and a butler, or something. It's not exactly Onion-quality work, but it certainly gets the job done.
As of 5:41 PM EST, the front page of The UK Sun is still showing as hacked. Full screengrab below, click to enlarge: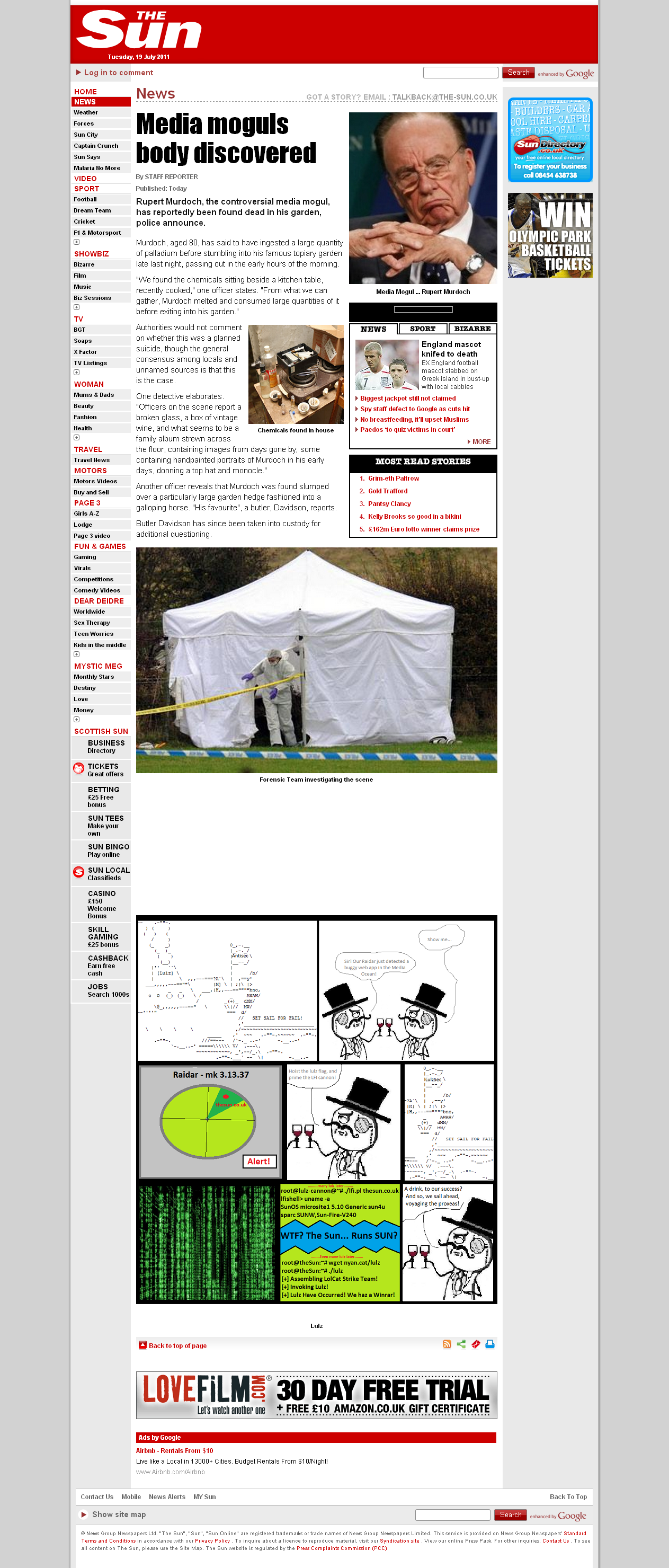 The hackers noted over a series of messages on Twitter:
"If you visited The Sun before we did this (may God have mercy on your soul) clear your cache so the redirect works. #MurdochMeltdownMonday." Also, they're seeing the site on their end as down, and are now enjoying themselves quite a bit: "It would appear new-times.co.uk has been hit so hard with redirects that it's now down. That would explain it… we're laughing quite hard."
UPDATE: As of 5:53 PM, the redirect to the LULZSEC site is no longer working. That was quick.
UPDATE 2: They're now Tweeting out Sun staffers' email login information, and one Lulzsec Tweet noted: "Don't be a #peon like the others. We are showing you a very small surface; the real damage is currently giving the admins heart attacks. 😉"
UPDATE 3: And they've now redirected The Sun to their Twitter feed, noting: "Hello, everyone that wanted to visit The Sun! How is your day? Good?" Good!
fkamer@observer.com | @weareyourfek