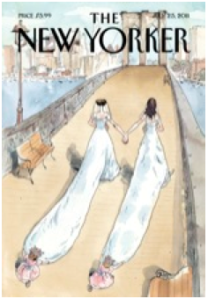 We recently asked David Remnick

, in a live chat, whether he'd considered running a gay-marriage-themed New Yorker cover after the state government's decision in favor of marriage equality. "I would not be surprised if there was one in time for the first wave of weddings," he told us, though the decision came down too close to press time to respond with a cover immediately.
This week's Barry Blitt cover illustration, featuring two brides strolling down the Brooklyn Bridge, continues a long tradition of (sometimes gay-)wedding-themed covers that The New Yorker summarizes in a blog post. The covers have gone from zanily buzzy–the neon-pink backdropped couple in 1994–to sardonic–the groom in white silk schmatte in 2004–to this week's rather sweet cover, with the bridge stretching forward into the horizon.
ddaddario@observer.com :: @DPD_