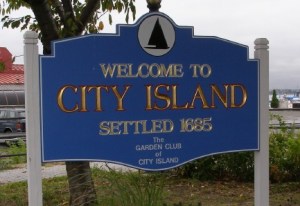 At least that's what the Daily News declares today in an article headlined "City Island mixes bohemian cool, NYC quirkiness and seafaring charm." It reminds us of the time The Times called Staten Island the new Brooklyn. (Then again, the Gray Lady calls something the new Brooklyn at least once a month.)
There is a very sweet story in here, though, of antiques, salty seadogs and newly married gay couples.
Last Friday, the Island's first-ever gay Jewish wedding took place between Ken Binder and Steve Roth at their Bay St. 1911-built home. As they exchanged vows, the sun set over the water, dogs barked, guitars played and the Empire State Building stood as a sliver in the  distance while a female rabbi chanted love hymns. More than 250 people showed up, which comes to roughly 5% of the island's 4,500 population.

[…]

"For someone who has been gay since he was a little kid, picked on, lost jobs, had trouble coming out and has been through health issues, the fact that I was able to look the man I love in the eye and legally get married and celebrate it in front of friends and family in this lifetime is incredible to me," says Binder, (the couple legally married in New Canaan, CT, last Wednesday opting to rush the ceremony instead of waiting for the N.Y. state law to take effect this Sunday. "I have never encountered anything but support since I moved to this island. It's a village, and it's in New York."

[…]

Greenwich Village and other neighborhoods wish they had oral and physical history as accessible as this. Ken Binder cherishes the old and the new on City Island. When he first moved here to live with Roth seven years ago, he researched the old structures. As a designer, he's been inside many of them, including a colorful loft on City Island Ave. and a waterfront 1901 Victorian he redesigned, where Katharine Hepburn filmed "Long Day's Journey Into Night" and Gene Hackman filmed a scene from "The Royal Tenenbaums."
Wes Anderson? Maybe City Island is cooler than we thought.