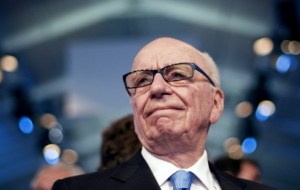 James Murdoch's announcement that the 169-year-old Sunday tabloid News of the World will be shut down was tragedy for the hundreds of staffers who found out via wire service that they were fired due to their superiors' irresponsibility. But it's an embarrassment of riches for media conspiracy theorists looking to link media tycoon Rupert Murdoch with politicians, celebrities, royals and the exploitation of civilians and vicitims of every major news story in a decade.
One of the biggest mysteries of the unraveling phone hacking scandal is why the dozens British detectives on the News of the World case since 2006 failed to uncover the full extent of it.  Complicating the weak investigation is evidence that the paper was bribing Metropolitan police officers. 
At the time when those payments were being made, Andy Coulson was editing the paper. Mr. Coulson was later made Mr. Cameron's communications director, and probably a key liaison between him and Mr. Murdoch–the politicians needed the support of the Murdoch press to get elected, and News Corp. needed the Downing Street to approve potential monopoly mergers and acquisitions like News Corp's bid for BSkyB. The BSkyB deal is still under review and Mr. Coulson has been made a scapegoat for the hacking.
James Murdoch has been the face of all announcements and inquiries about the hacking, suggesting a changing of the guard at News Corp. He is already implicated in the scandal for having signed off on million pound settlements to celebrities who'd been hacked.
Reporters chased down his father Rupert Murdoch, walking with wife Wendi in Idaho; he had no comment. Least of all about his favorite editor, Rebekah Brooks, who remains in charge of News International despite having helmed News of the World through the worst of it. She is described as a major blind spot of Mr. Murdoch's.
The revenue from the last edition of News of the World will go to charity, and staffers are being told to apply for other jobs within the company. They should probably try the company's daily, The Sun. Many suspect the News of the World will be reborn as The Sun on Sunday, and there are unconfirmed reports that the URL thesunonsunday.co.uk was recently registered.