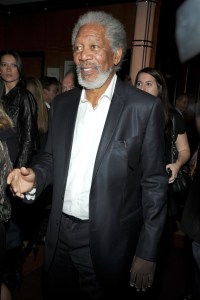 "My second favorite film of all time is Shawshank Redemption," raved Star Jones, wearing a striped hat and cream dress to Monday's Mandela Day luncheon at the Pool Room at the Four Seasons, "but I want you to know that I watched The Sum of All Fears for the 14th time last night." Which is to say, she is a major fan of Morgan Freeman, "a huge, huge, huge fan." Ms. Jones was in the right place—Mr. Freeman, who'd portrayed Nelson Mandela in Invictus, was the luncheon's host. The Observer didn't see Ms. Jones speaking with Mr. Freeman, but she did spend several tense minutes before lunch standing by the table of her former View couchmate Barbara Walters and ABC's Robin Roberts. Ms. Roberts conversed freely, but Ms. Walters, jaw set, did not deign to turn around.
Ms. Jones, however, said she was fine seeing the woman who'd fired her and written less-than-glowingly about her in a memoir, insisting such feuding was not her wont. She touched The Observer's hand and assured us, "Adult women don't act like that."
Aside from the chill emanating from Ms. Walters's seat at the power table (where she was later joined by Christiane Amanpour and an iPad-toting Arthur Sulzberger Jr.), the afternoon, celebrating Mr. Mandela's 93rd birthday, was all about love. Brian Williams bragged to a fellow partygoer about his daughter Allison's new job: "She just completed an HBO series with Lena Dunham!" The media contingent stuck together, with Al Roker, Hoda Kotb and Ann Curry forming a Today show scrum by the pool before lunch began. Ms. Kotb eventually broke off for a close conversation with Mr. Freeman, and was a bit starstruck. "I loved Shawshank Redemption," she said. "I know it's an oldie but goodie. When I'm talking to him—I was just watching his mouth move, and all I could think about was him in Shawshank. I'm sure he was telling interesting stories, but I was just like this!" She hung her mouth open, charmingly feigning a stupor.
As for Mr. Mandela, Ms. Kotb was wistful that she had not yet met him. "It's almost like every now and then in your life, you get to meet a legend. It happens so infrequently, even in our business. It's what he stands for, and the feeling of meeting someone so late in their life, especially after all he's been through.
"I'm just really looking forward to it. There are a lot of really cool people here, but the guest of honor is the guest of honor." Unfortunately, Mr. Mandela remained in South Africa.
Time editor Rick Stengel and Mr. Freeman told stories in honor of Mr. Mandela, before the lunch of steak frites was served. Mr. Freeman won over the crowd with a charming story that included a pitch-perfect impersonation of Nelson Mandela anointing Mr. Freeman the man to play him on film.
Mr. Freeman told The Observer that he hadn't informed his friend of the event. "I haven't talked to him, in fact, since I was there last year. A lot of people are trying to get to him, and they're all 'close friends,'"—here Mr. Freeman widened his eyes as though to question their closeness. "You take it upon yourself not to be too pushy."
Never fear, though! Mr. Mandela was aware of luncheon: "Zelda—his assistant—she tells him everything. So he knows."
The Rev. Al Sharpton overflowed with love for Mr. Mandela, who has been rumored to be in ill health: "I think he's certainly, probably, one of the greatest historic figures of all time. I was there in the antiapartheid movement, I was there in 1994 when he was elected president of South Africa. So, I celebrate his birthday every year." As for Mr. Freeman, the Rev. Sharpton couldn't pick a favorite movie. "That's a real tough one. Lean on Me was all right, but that would be hard to say."
Cathie Black, the recently appointed, more-recently departed head of New York's public schools and onetime Hearst honchette, was thrilled to honor Mr. Mandela. "I think all of us honor him with great respect for the amazing life that he has led," Ms. Black said, "and there's a particular affinity, since we launched the Oprah Winfrey magazine in South Africa probably about eight or nine years ago. And that's why I'm here!" (When asked her favorite Morgan Freeman movie, Ms. Black said, "I can't answer that question" and walked briskly away.)
Ms. Black recently returned from a month spent in France and Italy with her husband, "and now I'm going to enjoy my summer and think about my next-next." Was anyone hungering to employ her, The Observer wondered? "I'm not dealing with any of it in the summer!" There would surely be many lunches between this midsummer afternoon and Ms. Black's next-next.
ddaddario@observer.com :: @DPD_
Edited by Daisy Prince