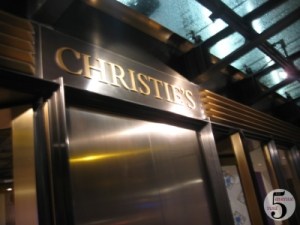 Nearly one-fifth of Christie's clients now bid online, according to sales figures released by the auction house. 19% of clients are online bidders, up 2% year-on-year. The total value of lots purchased online has risen 24% to $59.9 million. Christie's had a total turnover of $3.2 billion according to the first-half sales totals.
We can hardly say the number of online bidders surprises us, after following the growing market for purchasing art online. We can only imagine this number will continue to increase. There was a time, after all, when phone bids were a strange and foreign presence in the auction room. Here, read a wonderfully dated article in the New York Times from March 1984. It compares a group of Christie's specialists taking phone bids to "a scene out of 'Chorus Line.'"
Buyers who choose to bid by telephone usually wish to disclose very little about themselves. Indeed, anonymity is the main reason that collectors, dealers and museum curators bid by telephone. Some who are not concerned with maintaining their privacy also use the telephone to bid as a convenience – because they live too far away, or are unable to attend.

Bids have been made during sales at Christie's and Sotheby's from as far away as Australia, South Africa and Japan – and as close as a telephone booth down the hall from the auction room, or a limousine out front. An Impressionist painting was purchased "for several million," at Christie's last November by a telephone bid from a car parked in front of the gallery.
Technology! Times sure change, don't they?