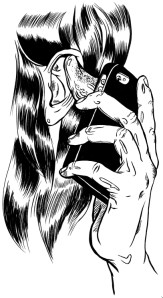 I've always been a relatively early adopter of new technologies, at least when it comes to cookware and sex. So at a seventh-grade slumber party in New Canaan, Conn., it was I who first brazenly entered the fray in an AOL chatroom with the line, "Okay, who here wants to DO IT?" (At the time, my proficiency at Truth or Dare was unmatched.)
I've since tried erotic G-chatting and sexy Skyperbation, and I once put the kink back in Kinko's by photocopying and faxing a smooshed boob to a young man I fancied in college. I even lost one of my virginities (never mind which one) to a Second Life avatar named LycheeNut, who looked like one of Santa's elves but with bat wings.
Come to think of it, I still get sort of turned on by green boots.
Sadly, 'Nut and I lost touch when I left my laptop in a taxi. (But, baby, if you're out there, holler!)
Naturally, I hopped on the sexting bandwagon before it had a name, much less made the front page of The New York Times. As my duly elected representative from the state of New York amply demonstrated last month, the practice is more about photos than text, and as a result, I've probably spent more time toying with the tilt of a full-length mirror—believe me, it's all in the angles—than I should admit.
Of course, said representative also amply demonstrated that the sending of such messages poses certain dangers, even with judicious cropping, reminding me that basically every sext I've ever sent is probably sitting somewhere out there on a guy's phone (maybe all of his friends' phones, too) waiting for an opportune moment to destroy me.
So when I discovered BlackBerry Voice Notes (Apple has a similar app called Voice Memos), which lets you record and send brief audio messages via text or email, I immediately recognized the copious erotic possibilities, as well as the professional risks. But I didn't actually explore them in earnest until late last year, when I found myself entangled with young man (let's call him Dre) who early on in our dalliance acknowledged a fondness for vocal cues.
In spite of my experience with sexting, talking dirty out loud was new territory for me, and I found it somewhat absurd initially. But after a little practice, I began to enjoy it. Before long I grew to think of myself as the Len Berman of our late-night sporting events, whispering a play-by-play into Dre's ear that couldn't have been any more exciting if I'd whipped out a vuvuzela.
Once I saw the sexual potential of calling an audible, I became determined to apply the latest technology to the task, especially since Dre and I saw each other only once a week or so.
With dick pics in the news, Voice Notes seemed like a safer way to flirt from afar. You see, since speech recognition is still a tricky science (I can't tell you how many times I've tried to phone my friend Gino via voice-activated speed dial and called my "gyno" instead), I figured it must be tougher to get caught by voice than by likeness.
Sending a Voice Note is a bit like leaving a voicemail, but not exactly. For one thing, you don't need to wait for a mood-killing robot to tell you when to speak or to press 1 for further options and what to do after some beep. And because they appear as texts with attachments, they don't require users to dial a number to retrieve them.
I hit record.
"You've been a baaaaaad boy, haven't you, Mister?" I said.
I played it back.
Delete.
The possibility of hearing myself meant that I could craft the perfect self-presentation, get the intonation just right and choose my words carefully. It also meant I sort of had to.
I tried again. "Voulez-vous couchez avec moi? Ce soir?"
Delete!
"I'm soooo hot and wet," I tried again, dissolving into a series of moans and little whimpers. I sounded like a dying giraffe.
I then tried a straightforward approach. "I have a confession to make. When you called me before, you inadvertently interrupted my afternoon self-pleasuring session … "
Ew. Self-pleasuring? Session??
Too clinical. This was tougher than I'd expected. It was like moaning into an abyss. It would be so much simpler to improvise with the other party physically present, when everything was reciprocal and I could absorb my partner's cues.
I grabbed a notepad.
Eventually, I succeeded in recounting an intimate anecdote in an octave that sounded appropriately sultry, if a little contrived, and sent my message. I knew it might be a while before Dre was able to open it since he was at work, but my phone rang almost immediately.
It was my dad.
"Sweetie," he said. "I received the audio file you sent me."
A moment passed.
"Sweetheart, are you there?" he asked.
"Dad. I … I really messed up."
"I can't seem to get the damned thing open! Do I click somewhere? Can you just tell me your news over the phone?"
"Oh, nothing major. Just wanted to say hi!"
I hung up and went to resend the message, but not without quadruple-checking the "to" field.
Forty-five minutes later, I received a reply from Dre. It showed up as a little microphone icon.
I hit play.
"I want to take my tongue and slowly work it down your chest and midsection … " Dre said. Hmm. "Midsection"? But okay. I knew what he meant.
He went on to describe in graphic detail various things he would like to do with, for and to me. It was hot.
Before I could reply, Dre texted: "This is fun!"
And it was. Until the next day, that is, when the little jerk went all Beavis on me, sending me a voice note that sounded remarkably like … was it? Yes, yes it was. A fart.
I was speechless.
Naturally, I'm saving the file … just in case he runs for office.
editorial@observer.com