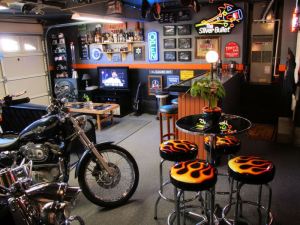 As we wait in sleepless excitement for Dasha Zhukova's new magazine, Garage, we've discovered the field of garage-referencing print journalism to be surprisingly crowded. Ms. Zhukova's magazine is named for the Garage Center for Contemporary Culture, the contemporary art space she opened in the old Bakhmetevsky Bus Garage in Moscow. Garage is supposed to combine Ms. Zhukova's interest in both art and fashion.
"It's going to be a girls' magazine," Ms. Zhukova told the Wall Street Journal in May.
Your magazine might be, Ms. Zhukova, but it's not the only Garage Magazine in town! Watch out for the competition.
Garage Magazine:
Tagline: "A magazine about visual amusement"
This semi-annual publication, now in issue 13, boasts "100 pages of graffiti, photography and graphic design." It's printed in Italy with both English and Italian text. We can't really speak to the editorial integrity here, but if the grammatical errors in the "About" section on the website are any indication ("It's contributors are both famous and unknown") Ms. Zhukova doesn't have a lot to worry about.
Garage Magazine:
Tagline: "The Modern Guy's Guide To Style"
We're not expecting too much overlap in readership with this particular Garage Magazine. According to its Facebook page, it "looks at the new breed of young Filipino men whose fashion sense has truly moved forward with the rest of the world." Features include "Get a Model's Body Now!" and "Best New Trends" with cherubic boys pouting on each cover.
Garage Magazine:
Tagline: There wasn't one officially but it represented the "best in hot rod culture."
Ms. Zhukova can rest easy knowing that the glossy of motorcycle guru Jesse James is now defunct. This publication was really the antithesis of everything about the art and fashion world. Each cover had a different "Garage Gal," usually a porn star, posing suggestively in front of a car. Inside were features like "Denim: 160 Years and Still One Leg at a Time." The magazine is sorely missed among heavily tatted readers; all but two of the back issues, available from the Australian web site Kustom Ink, are sold out. The final issue, published in February 2010, had the theme, "CHICKS RULE!"
American Garage Magazine:
Tagline: "Life Behind the Big Door."
In the most literal of all garage magazines, American Garage Magazine "is a collection of topics unique to the American garage. As unassuming as many are, garages hold our passions: that first bike, new car or antique car from our youth. Tools for hobbies, sports equipment and recreational gear all reside in our American garages. Cars come and go but garages are always there." We recommend the feature on historic garages on their website.
So, yeah. Garages! At least now you know what you're dealing with, Ms. Zhukova.