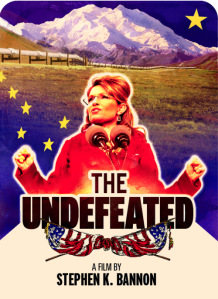 Alongside several other brave films sharing Harry Potter's release date, The Undefeated – a new documentary film that tracks Sarah Palin's rise "from obscurity to national prominence," according to the Victory Film Group's voicemail – will debut in ten theaters nationwide this Friday, with one offering a midnight showing.
But you won't find this controversial politician on a big screen in New York.
Ten cities were selected for the limited opening – including Phoenix, AZ, Grapevine, TX, and Independence, MO – based on Palin's book sales and fan groups, among other sources. NYC didn't quite make the cut.
While Palin stopped at a Rochester Borders store during her 2009 Going Rogue book tour, she didn't come to NYC on the tour. (A HarperCollins spokesperson explained to The Observer that the company aimed to select strong stores where they "felt she had the most fans.") The politician's ongoing "One Nation" East Coast bus trip this summer, however, passed through Manhattan around the first of June.
During Palin's New York visit someone tagged her bus with a sign reading "I, the media whore," echoing sentiments of what Bill Keller would call Palin's "Tom and Jerry Problem" with the press, as the ex-Alaska Governor continued to travel the country without announcing her presidential race plans. (Some may see the movie debut as part of a cry for media attention; during the film's Iowa premier, the Times reported Palin was "still thinking about it," with regard to entering the race.)
Donald Trump was more friendly: the pair shared a piece of pizza in Times Square. Palin also tweeted a thank you to what she believed to be a New York flower shop for the peonies and Calla Lillies they delivered, commenting, "Man, people are nice around here!"
The flower company is actually located in Jersey City, but still there is potential for the Palin film to expand to New York. According to statistics from a poll used so that the public could weigh in on where the movie should be played, New York ranks in the top quartile, and as CEO of the film's distributor (ARC Entertainment) Trevor Drinkwater said, expansion beyond the first week will favor those markets.
All things considered, Drinkwater noted that although New York's poll activity "has been pretty active," New York consumers can always buy a copy of the documentary on DVD if the film doesn't open here.