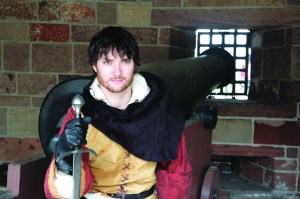 Last week the English army landed on Governors Island. As the small expeditionary force marched on Fort Jay, swords glinting in the late-afternoon sun, its young general clambered up the embankment to bellow encouragement.
"Once more unto the beach!" he yelled, the misquotation earning a tired chuckle from his men, who had already mounted the assault many times that day. The French were routed, and the English cheered not just for victory but because the day's rehearsal was done. King Henry's men had won again.
A few dozen yards from the skirmish, Stephen Burdman, artistic director of the New York Classical Theatre, watched the king of France toss a Frisbee. The two monarchs reign for a performance at a time, and Mr. Burdman is the divine being who blesses their prop crowns. He has planned an amphibious assault on this former military base with all the care befitting a real war, and on the evening of July 6, weather permitting, he will take Governors Island with an audience big enough to fill a Broadway house.
For over a decade, Mr. Burdman has pioneered what he calls panoramic theater, where the luxuries of sound and light are foregone in favor of relocation after every scene. This Henry V will be the apotheosis of that energetic brand of drama. Though it climaxes on the island, the play begins in and around Castle Clinton, in the Battery. When it comes time to invade France, Mr. Burdman and his crack team of people-movers lead the herd onto a chartered ferry, where the play continues upon landing.
"The idea seems like a gimmick until you see it," Mr. Burdman said. "People who call it a gimmick, when they see that the movement always supports the dramatic structure, they become our most ardent fans."
New York Classical has never taken to the water before, and does so now with the help of Statue Cruises, which is providing the boats as part of a sponsorship deal with the River to River Festival. In numbers and ambition, this is the company's largest production ever, mounted after a year of slashed government funding forced it to cancel a planned series of summer workshops. Mr. Burdman, who spent years as a managing consultant for small creative firms before quitting four years ago to produce plays full time, has a philosophy of "never cut back on programming." Rather than scale back Henry V he has gone big, hoping that boldness will lead to increased corporate sponsorship.
The company needs the money. Operating on a tiny annual budget of $250,000, it has just signed an off-Broadway union contract whose salary demands mean that, according to associate producer Sean Hagerty, "our costs have essentially tripled." Giving its accountants further heartburn, every show is free.
"I think Shakespeare would like what we're trying to do," said Mr. Burdman. "His theater was open to those who could spend a penny if they didn't mind standing." He wants an audience of the sort of people who normally don't go out of their way for the Bard. His demographics are enviable.
"The average age at the Met is in the 70s," he said. "Ours is in the lower 30s."
He must keep those 30-somethings (and their children) entertained—and that means cuts. Mr. Burdman has shorn Henry V of over half its length and directed it to move at a fast clip. Shakespeareans understand. Most of them would rather perform half a play for a packed house than a complete one for crickets. Even in the days of the Globe, Henry V was often abridged, said Columbia's resident Shakespeare-guru, James Shapiro.
"Can you cut half of Henry V without cutting to bone?" he asked. "If you do it intelligently, I think you can. A lot of the oratory is usefully cut. Towards the end of the play, it gets a little draggy."
He paused.
"That's not to say the surgery can't be botched."
"I'm not dumbing down the text," said Mr. Burdman. "We're not rewriting. We cut."
Nature also demands concessions. Lacking microphones or friendly acoustics, Mr. Burdman has trained his actors to speak facing the audience—a note that runs counter to every naturalistic impulse acquired in drama school. "The bottom line is, the actors have got to be seen and understood," said Joan Melton, the show's vocal coach.
This action-heavy, play-it-for-the-cheap-seats style calls to mind the days of the old Bowery Theatre, where, on May 10, 1849, the Lower East Side's roughest citizens, enamored of Edwin Forrest's blood-and-thunder brand of American Shakespeare, assaulted the Astor Opera House to protest an overly effete Macbeth. Twenty-five died that night, in the deadliest evening of theater the city has ever seen.
That opera house was, coincidentally, just catercorner from where Joseph Papp, who first brought Shakespeare to Central Park, founded his Public Theater in 1967. Though they don't see themselves as a torch-bearing mob banging on the doors of the high-art establishment, those behind New York Classical would like to think they are redefining outdoor Shakespeare.
"You don't have to wait overnight to get a ticket," said Mr. Hagerty. "You just show up. That's something closer to, without sounding pretentious, to what Joseph Papp had in mind."
Mr. Burdman isn't trying to start a feud. "They do wonderful work," he said of Oskar Eustis, artistic director at the Public, and his team. Mr. Eustis, though he hasn't seen a New York Classical production, likes the sound of taking Henry V across the water.
"How fabulous, how fabulous!" he said. "That's just spectacular. I love that idea!"
Though tickled by New York Classical's concept, he has no interest in abandoning the Delacorte—"the Cadillac of Shakespeare theaters in the United States"—and he would never make such deep cuts. "If they cut Henry V in half," he said, "I'm sorry—they're going to lose a lot."
Schedule permitting, he plans to attend one of the dozen performances of the show.
On weekdays Governors Island is closed to the public, and Mr. Burdman has full sway. On weekends, or on days when he rehearses in Battery Park, the public is free to get in the way. That, as he sees it, is half the fun. Last year, during New York Classical's Richard III in Central Park, a child ran onto the stage during the show's climax. At the end of the scene, Mr. Hagerty, as the half-mad hunchback king, ordered his servants off stage, then added, "And take this child with you!"
"It worked for Richard," Mr. Hagerty said. "I don't think he likes kids, considering how he treated his nephews."
There's no denying that children love these productions. On the scene changes, which are often done at a running pace, the children often lead the pack, eager to get a front-row seat when the play resumes. Mr. Hagerty's hope is to raise the youngest members of the audience to the play's level, rather than bringing down the play down.
"I don't think we're doing theater for children," he said. "In fact, I hate when you say theater for children, and people respond as though it's dumbed down kiddie theater. We do theater for people—adults and the kids respond."
During a break last week, Justin Blanchard, who plays Henry, said that the weekend prior a group of lightsaber-wielding tots joined him in battle, eager to lend their blades to the English cause.
"We've gotten far away from the idea of actually running people through with a sword," he said, wistfully. "But kids—when you take out the swords, you see their eyes light up."
A stage manager hollered, "This is the battle call for Agincourt!" and Mr. Blanchard rose to lead his men. The company was finishing a "stumble-through" of the play's climax, and Mr. Burdman was content to let his fight choreographer, Shad Ramsey, run the show. "Half speed on the battle," yelled Mr. Ramsey, "but with full intention!" It was Mr. Burdman's lunch time, and he unwrapped a Subway sandwich—half-squished by one of his company's backpacks—to enjoy the slow-motion re-enactment of Agincourt.
"People love stage fighting," said Mr. Burdman. "Let's be very honest—people really like it. I know this is what they wanna see."
As explained by Andrew James Gordon—a historically minded production intern who kindly supplied The Observer with sunscreen—Agincourt was a bad day to be French. Although their army outnumbered the English four to one, the weather was not kind, and the cream of the French nobility was mired in the mud to be slaughtered by the English longbows.
"We used to invade France," sighed Mr. Gordon, an Australian. "Now we invade Spain and call it holiday."