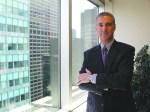 At first glance, the 11-story property on 11th Avenue near 47th Street hardly seemed the ideal candidate to become Manhattan's next big office building.
Situated on the far West Side, the 98-year-old building at 636 11th Avenue was destined for a full-blown hotel or condominium conversion when the Hakimian Organization purchased a stake in it in 2005. Indeed, what corporate tenant in its right mind would willingly wander so far west? Or at least that's what Ben Hakimian thought.
But with amenities such as its 13-foot ceilings and Hudson River views, then-Cushman & Wakefield brokers Mitch Konsker and Paul Glickman begged to differ. The way they saw it, the building could be an easy draw for tenants from the creative industries. As the agency reps assigned to lease the building in 2007, the team expertly marketed the building and its outdoor courtyard, setting up shuttle buses to transport commuting employees to an area that, then, was the hinterlands.
For Messrs. Konsker and Glickman, the risky bet paid off: in 2008, Ogilvy & Mather, the international advertising and public relations agency, became one of the first major corporate tenants to shift its headquarters to 11th Avenue when it inked a huge, 600,000-square-foot deal within blocks of the auto dealerships and the river.
"It was transformational to that neighborhood, because it was 11th and 46th Street, where you don't have too many office tenants," Mr. Glickman recently recalled of the transaction, which earned his team the Real Estate Board of New York's 2009 Ingenious Deal of the Year Award. "Now, with Hudson Yards and the 7 [train] coming across, we're just starting to see the residential and commercial taking off, and I think you'll continue to see the trend on the far West Side."
As significant a lease as that was for both the city and the brokers involved, it remains simply part of a litany. Indeed, in the two years since he helped transform 11th Avenue from a no man's land into an attractive new home to office tenants, the 25-year real estate veteran has inked a gaggle of big deals, even as he and his team made headlines in this newspaper and elsewhere earlier this year for its high-profile move from Cushman & Wakefield to rival Jones Lang LaSalle.
When Messrs. Konsker and Glickman broke from Cushman and marched with their colleagues Alexander Chudnoff, Matthew Astrachan and Mitti Liebersohn to JLL, the industry and its watchers took notice. Of the decision to move in January, and the subsequent attention it received, Mr. Glickman said he was surprised.
"I personally was surprised because I think people should have something better to do than gossip about a group of brokers moving from one firm to the other," Mr. Glickman, 48, told The Commercial Observer in his first interview since the move six months ago.
Mr. Glickman and his team appeared to have worked through the distractions or to have ignored them. Last month, he helped arrange what may be the second-largest lease of the second quarter for the private equity firm Cerberus Capital Management. With former Treasury Secretary John Snow at its helm, the firm signed a 110,000-square-foot transaction at 875 Third Avenue, a 29-story glass-facade tower near East 52nd Street. For Mr. Glickman, who represented the building's owner, Eastgate Realty, the transaction allowed him to stitch up the building's occupancy rate to more than 98 percent during a time of uncertainty.
"They took advantage of a really great address," said Mr. Glickman, who also inked 2009's second-largest lease in Manhattan in a deal with New York Life Insurance at 63 Madison Avenue.
"There were a lot of amenities that came with that space," Mr. Glickman added of the Cerberus deal. "There was a mailroom at the grade level where they could get some branding. They got identity at the elevator bank. They got identity at the concierge desk, and they got a block of built and furnished space. So it was really a very nice deal for everyone."
Meanwhile, in February, Mr. Glickman worked on a massive 400,000 square feet with Bloomberg at 120 Park Avenue, the one-time headquarters for Philip Morris that is now owned by Eastgate. Built in the early 1980s, Phillip Morris created infrastructure and amenities that a typical third-party developer would not consider including, such as four levels of below-grade space that had at one time housed a private parking garage and cafeteria, he said.
"There were all sorts of bells and whistles that Bloomberg LP really wanted to take advantage of," said Mr. Glickman, who represented Eastgate. "With this deal, they've grown leaps and bounds. And that's what's really cool: here's a company that's dynamic, growing and they're doing big deals."
LOOKING AHEAD, MR. GLICKMAN
has been preparing to market one of the city's very few new office properties slated for development over the next year. In addition to 1 World Trade Center and several other office projects, real estate observers now have their eyes on 51 Astor Place, the new 400,000-square-foot, speculative, ground-up commercial office building slated on East Eighth Street.
Developed by Edward Minskoff, the building will be designed and marketed to appeal to creative-industry tenants in what Mr. Glickman, the agency rep, described as "a cool, hip, funky neighborhood that has all the restaurants, transportation and labor force you could ever want in an area."
Like with the far West Side three years earlier—and one Great Recession ago—Mr. Glickman sees the Astor Place submarket emerging as the city's next major office district.
"To be able to put a building like that in a location like that, that's already been gentrified, is a great thing," he said. "There's nothing of this magnitude and this stature there right now. It's going to be transformative."
jsederstrom@observer.com