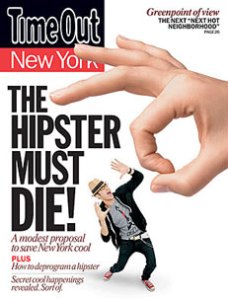 Alison Tocci, longtime president of Time Out North America, is leaving after nearly 15 years to run a nonprofit. She'll become the president of the City Parks Foundation, the organization behind Central Park SummerStage.
Ms. Tocci's move follows the purchase in late May of a controlling stake in the company by Oakley Capital Investments Ltd., a London-based private equity fund, from founder Tony Elliot, who retains a minority interest. Oakley is run by run by Peter Dubens, an entrepreneur who made his fortune with T-shirts that change hue based on body temperature, advertising the wearer's perspiration with brightly colored patches.
It's probably for the best that Time Out New York staffers haven't been wearing those around the office in recent months. The head count has shrunk by around 20 people, among them the CFO and marketing director, both of whom had put in more than a decade. Ms. Tocci, whose duties have been absorbed by Time Out's new global COO, Aksel Van Der Wal, noted that while circulation at the weekly listings guide has remained steady at around 150,000 copies (98 percent subscription), advertising revenue had fallen, from a high of around $18 million to $13 million this year, a change she attributed to "the perfect storm of a terrible economy and the move away from print advertising."
While Oakley plans to retain the print product in New York, they are focusing on the digital side, with an eye toward rolling out e-commerce elements (ticket sales, coupons) as well as membership-driven enhanced content.
Ms. Tocci said it was her choice to leave when she did. "I thought they needed someone from a purely digital background," she explained. Appropriately enough for the longtime president of a city listings magazine, she whipped up a restaurant metaphor. "It's like, this used to be a steakhouse and now it's going to be a sushi place. Not that the steak guy can't cook a pretty good fish, but you might want to get a sushi expert."
Ms. Tocci acknowledged that she was ready for a change. "I'll be the first to admit, you can feel a little beat up by media these days," she said. She added that she looked forward to following Time Out's evolution as a spectator.
"It will be a good thing to watch from the park," she said.
agell [at] observer.com | @aarongell