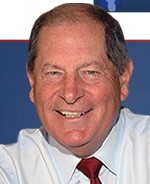 Bob Turner will get a little help in his Congressional bid from the dean of the New York delegation.
Congressman Peter King will be the honored guest at a fundraiser for Turner in Rego Park next Sunday, July 31. Tickets range from a $100 minimum up to $1,000.
One of Turner's advantages, in the eyes of the Republican leaders who selected him as the candidate, is his ability to spend his own money on the race. Turner self-financed most of his 2010 challenge to Anthony Weiner, when he received about 40 percent of the vote.
At the campaign kick-off earlier this month, Turner joked that he'd like to spend "as little as possible" this time around.