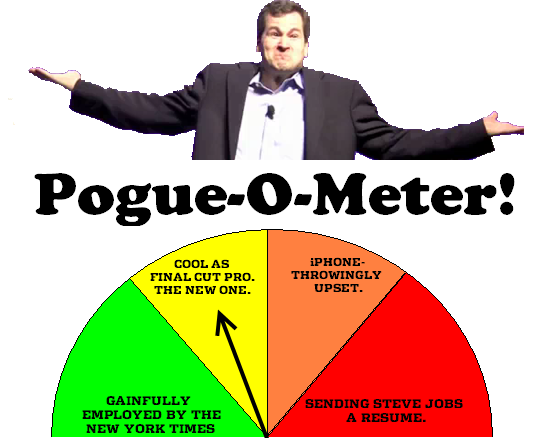 As we've done for the last week, we gave the New York Times another call today to find out whether a decision had been rendered on the matter of incredibly popular personal technology columnist David Pogue's speaking engagement for communications professionals—something forbidden by the Times—and whether or not Mr. Pogue will face repercussions for doing so. The answer?
Via spokeswoman Eileen Murphy, the Times has yet to deliver a decision.
Mr. Pogue's scuffle with the paper's standards isn't notable for any particular degree of heinous behavior—writers speak to P.R. professionals at luncheons and seminars often (the writer of this post has, too, but only once, he didn't get paid for it, and it was nothing short of unpleasant and otherwise, an experience he'd rather not have ever again).
But Mr. Pogue's intense popularity has shielded him from facing serious consequences from his editors at the Times, while less popular writers with fewer scraps with the Times standards'—if any at all—have been summarily dismissed on first instances.
The typically prolific Mr. Pogue has been somewhat quiet on Twitter over the last week (only one Tweet today, for example).
PogueWatch will return on Tuesday.
fkamer@observer.com | @weareyourfek