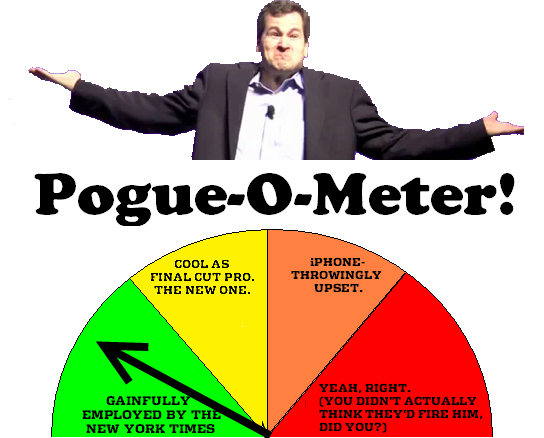 The Sword of Damocles hangs no more for David Pogue. The New York Times technology columnist has yet again eluded the bony grasp of editorial punishment in the wake of a "flagrant" violation of the New York Times' editorial standards.
To refresh your memory, Mr. Pogue—easily one of the most widely-read technology columnists in the country, and a major asset to the Times—was recently found to have spoken at a seminar for communications professionals, something strictly against the New York Times standards.
This is not the first time his compliance with the Times' standards or ethics have been called into question.
Among others:
(He's also had some slightly turbulent problems at home involving press, and continues to.)
Given the seriousness with which the Times takes their standards policy—and given the precedent for violations of it: zero–tolerance, whether you understand the rules or not—one would think Mr. Pogue's status with the Times would be called into question.
Not so much. The decision, as handed down for delivery by Arthur Brisbane, the Times' Public Editor:
[An] inquiry into it has led to a Times internal review and, as a consequence, Pogue is barred from making any more speeches like this one to public relations professionals.
Also:
…the speech flagrantly violates the prohibition against giving advice at paid P.R. conferences.
But unlike less lucky (or popular) Times staffers, David Pogue will not be fired, and will only have a fraction of his supplementary income hedged by the Times. If not entirely predictable, it's a lucky break: Mr. Pogue still has issues closer to the chest to concern himself with. Heavy hangs the head onwhich the crown of technology-writing for all of geekdom hangs, or something along those lines.
fkamer@observer.com | @weareyourfek