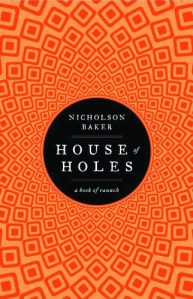 It takes five pages for the first orgasm to happen in House of Holes (Simon & Schuster, 272 pages, $25.00), the new Nicholson Baker book, but after that, they come in rapid succession. I refrain from calling House of Holes a "novel" partly because even Mr. Baker cannot bring himself to do so—the cover brands it "a book of raunch." The thread throughout is the House of Holes (as in orifice), a kind of lewd summer camp in an alternate reality. One must enter it through one of many portals scattered about that exist in places both surprising and obvious: a straw, a clothes dryer, a vagina. There is no plot to speak of, no characters, no narrative progression; the book isn't stylistically adventurous. House of Holes is smut. And, alas, it is smut of a low-octane variety, a series of rote fetishes performed by a cast of nondescript actors. Here, a compendium of the more important sexual encounters, in the order in which they occur:
A severed arm attached to a life-support pack treats a young woman to digital stimulation; a woman fellates a man while Alexander Borodin and Nikolai Rimsky-Korsakov, the famous Russian composers, ejaculate onto her feet; the severed arm penetrates a woman using a banana; a woman lays an egg in a bar; a woman is circumcised after a group of TSA officers rape her in a backroom at JFK airport; a group of men ejaculate on a woman because she wants to "feel like a breakfast pastry"; a woman shrinks to the size of a spermatozoon and a man ejaculates her; a woman fellates a man who has had his head amputated and then rubs against his leg in order to climax; a woman administers an enema on herself and then has anal intercourse with a screwdriver while a man ejaculates on her stomach; a man who has had his penis swapped out for a vagina has intercourse with the person now equipped with his penis; the egg laid at the bar hatches and the man and woman who emerge from it have intercourse.
There you have it: House of Holes.
Mr. Baker has written novels about sex before and been good at it. In Vox and The Fermata, sex was elemental to his storytelling. Those books made art out of pornography. They were outrageous and insulting, but for the most part held up as stories (or at least as compelling pornography). The new book exists as an excuse to write yet another sex scene. Mr. Baker is goofing around. And to a certain extent, he can be forgiven for that. He is, after all, a trickster. But the problem with House of Holes is that even Mr. Baker seems to find the joke stale after a time. "Rhumpa was her name," he writes, "and, yes, she paid a visit to the House of Holes." She is sold a special bra by a House employee who has a breast fixation. "Suddenly, with a moaning expression, he began wrapping her bra straps around his erection, which was startlingly large and curved upward slightly like some exotic purple tusk." He masturbates. The scene ends. Another sex scene follows in prose just as turgid.
I tried to read this book allegorically. Visiting the House of Holes is "very, very costly" and the people inside are all upper middle class. In the world of the book sex rarely occurs outside the House of Holes. I tried considering the first volume of The History of Sexuality, in which Michel Foucault attempts to debunk what he labels the "repressive hypothesis," the belief that Western culture since the 19th century has "repressed" its sexual drives and demonstrates that this repression produced the wealth of discourse on the subject of sex. I tried to tell myself that Mr. Baker is making a claim that the middle class is repressed because of all the small luxuries that appear in the book's "real world": golf, expensive hotel bars, Scientific American podcasts. The House of Holes, then, becomes a stand-in for Foucault's idea of discourse, whose meaning is twofold: discourse between author and reader, but also between characters. (Could it be a coincidence that everyone is so talkative during the act?) Mr. Baker's characters cannot engage in sexual activity in the "real world" but can also only achieve sexual gratification through the sacrifice of capital, the very source of their repression.
I tried to see this inherent contradiction as Mr. Baker raising the stakes of the House of Holes, which is really quite a violent, repressive place, in spite of its licentiousness. The bra salesman, for instance, is not allowed to look at breasts (as punishment, his testicles will be removed for two weeks if he does). The owner of the frisky severed arm had employees of the House remove the appendage in exchange for a larger penis. As if in reference to our own culture's repression, condoms are conspicuously absent, but Mr. Baker is always careful to remind the reader every few pages that people are screened for STDs before being allowed inside.
But even with this increased gravity, there is, in fact, little at stake here. In Mr. Baker's schema, castration and amputation are always reversible. Brief flashes of emotion or attraction evaporate the moment after orgasm. Sexual partners are swiftly swapped so that characters are never developed, each of them ending up a repository of sexual fluid and little else. The worthiest image in the book is the porndecahedron, a private room where several screens project amateur films of women masturbating. One character ponders its place in "sexual paradise." "People masturbate a lot in paradise," another responds. It is the only allegory in the book that does not come up short: in House of Holes, his weakest attempt at fiction to date, Mr. Baker has succeeded in fucking himself.
mmiller@observer.com