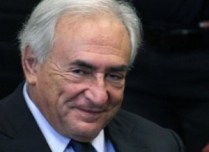 [Insert French expression of astonishment here.] The New York Times reported Thursday evening that the Manhattan DA's sexual assault case against former IMF chief Dominique Strauss-Kahn—or "Le Perv," as dubbed by a few New York City newspapers—has come into serious, serious question by (among other things) 400 pounds of Marijuana, and moreover, the credibility of the former IMF chief's accuser.
Their story is essentially:
There have been inconsistencies in the accuser's story and past, which is reportedly littered with questions about motives (immigration status) and ties to unsavory characters.
Someone, somewhere is working on a really good line about "freedom fries" right now.
To recap: the now-notorious Mr. Strauss-Kahn was accused of sexually assaulting a maid at the Sofitel Hotel in Midtown on May 14th; he was pulled off of a hastily-booked flight back to France, given a camera-ready "perp walk," an eye-widening bail, and the front cover of tabloids everywhere (but especially here) for the better part of two weeks. Many a French person was upset at Mr. Strauss-Kahn's treatment by American authorities; the case subsequently opened up discussions about the divide between French and American attitudes about sex, justice, and fame.
Now, as the New York Times reports, that may all have been for naught. The Times says the prosecution team met with Mr. Strauss-Kahn's defense attorneys Thursday evening and discussed dropping the felony charges. They're going to speak with the case's judge about their discussion Friday morning. In the attorneys' discussion—despite the prosecutors emphasis on what they see as unquestionable forensic evidence that there was a sexual encounter, they revealed that:
Since her initial allegation, the accuser has repeatedly lied to prosecutors.
The accuser, a Guinean national, has a pending asylum application. The woman had told prosecutors that in the application was another account of rape, and prosecutors found no such account in the application.
She also had a phone conversation with a man in jail about the benefits of pressing charges against Mr. Strauss-Kahn the day she charged him. The conversation is on tape.
The man she had the conversation with was jailed for possession of 400 pounds of marijuana.
He is also one of many people who made cash deposits in her bank account going upwards of $100,000, from four different states.
Bills belonging to the woman from four separate phone companies were found.
Interestingly enough, the revelations were reportedly not dug up by the star defense team of Benjamin Brafman and William W. Taylor—who have also famously defended P. Diddy, Jay-Z, and Plaxico Burress—but by the prosecution for the case. Not that this is likely to make a difference in Mr. Struass-Kahn's legal bills.
Mr. Strauss-Kahn was a frontrunner for the French presidency before the accusation against him; he has since fallen behind in polling. Many of Mr. Strauss-Kahn's supporters—especially French—called the charges into question from the get-go; if the Times is correct, and this does extend to the charges being dropped, Americans everywhere initially pained with annoyance of belligerent French claims of fraudulent charges and conspiracy to take down Mr. Strauss-Kahn will have to suffer their validation; on the other hand, the plainly accusatory New York City tabloids will look as plainly accusatory as they were, which is nothing new.
The Times reports that Mr. Strauss-Kahn could be at the least freed on his own recognizance with only his passport retained—quite the change from that pesky $1M bail and $5M bond—and at most, have all charges against him dismissed. Also: The DA might try to get him to plead guilty to a misdameanor charge, though the Times doesn't specify what (evading arrest: certainly one possibility), which they also contend that his defense is likely to basically laugh at.
Mr. Strauss-Kahn was formerly the chief of the International Monetary Fund; since he's charges, he resigned from his position, and was replaced by Christine Lagarde only one week ago. The former IMF chief has maintained his innocence throughout all charges against him.
Strauss-Kahn Case Seen as in Jeopardy [NYT]
fkamer@observer.com | @weareyourfek
Photo via Getty Images.