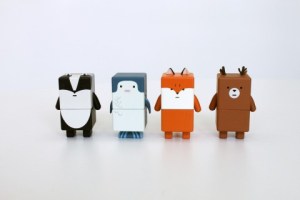 At the opening of Talk to Me, a great exhibition in MoMA's design department about the communication and interaction between people and objects, people were taking pictures with their iPhones of flat screens projecting the show's "works." Usually The Observer doesn't notice how many people have their faces buried in their mobile devices, but in this case, it was all too meta to ignore. A swarm of people was crammed into a tightly packed hallway, with Glenn Lowry, the museum's director, presiding over the entrance. The wall text he was standing by read, "Whether openly and actively, or in subtle subliminal ways, things talk to us," but he didn't feel much like talking.
"Hi. Here's the curator," he said, directing us to Paola Antonelli, and then disappeared into the crowd.
"Have you been inside yet?" Ms. Antonelli said.
"Not yet."
"Good luck," she said, gesturing to the crowd.
Nearby, Jason Silva was explaining augmented reality to Heather Graham. They were standing by an advertisement for Suwappu, little toys that, when you point an iPhone at them, interact with their environment on the phone's screen (which is a lot better than, you know, actually playing with them).
"It's the digital reality and the real world combining so that we become something more than just human," he said.
"That's amazing," she said.
In the exhibit were objects like an artificial biological clock, a phantom recorder that explores the phenomenon of phantom limbs, a floppy legs portable hard drive that props itself up on four legs when it senses spilled liquid and the Gesudheit Radio, which "sneezes" every so often to free itself of dirt. Little robots were rolling along the floor with signs that said, "HELP ME: point me in the right direction."
Downstairs was a boozy party. A woman was standing next to Monument to Balzac wearing a white kimono with a strange printed pattern. It was QR codes. People were snapping pictures with their iPhones.