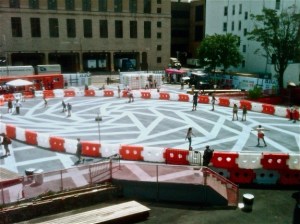 Roller skating is no laughing matter.  Or so, at least, said Rick Casalino as he danced towards The Observer yesterday morning.
"It's so important, and also increasingly difficult, to expose people to roller skating these days," said Mr. Casalino, who has skated two or three times a week since 1988.  "There are so few good places to skate."
But, until September 26th, there is one new rink, designed by Diller Scofidio + Renfro and James Corner Field Operations. Situated on "The Lot," the Highline's temporary 40,000-square-foot plaza on 30th street beneath the Highline, the roller rink joins food trucks Rickshaw Dumplings, Eddie's Pizza, Coolhaus, La Bella Torte, Korilla BBQ, and Red Hook Lobster.
The Highline split the cost of constructing the rink with UNIQLO, a Japanese clothing company with a SoHo flagship.  Two UNIQLO cubic booths stand in front of the rink, filled with t-shirts and cashmere sweaters.  But in yesterday's heat, UNIQLO couldn't attract the long lines away from Coolhaus, which served gourmet ice cream sandwiches, or La Bella Torte, which was advertising its iced cappuccinos.  The store had only sold two sweaters, a saleswoman told The Observer— both to Susan Sarandon, who dropped by for the ribbon cutting early in the morning. "I think it's too hot for anyone to buy cashmere," said UNIQLO's store manager.
Tripping over their rental skates, couples skated around the rink with ice cream sandwiches from the Coolhaus truck.
But they were amateurs, implied Kathy (who didn't want to reveal her last name because she had taken a personal day to go skating). The serious skaters were boogieing in the center of the rink.
A class of summer campers marveled at the Central Park Dance Skaters' Association, which had decided to assemble for an inaugural spin around the plaza.  "You have to practice for many years to get that edge, that flavor," said Steve Love, a member of the Association and founder of Love Productions, which has produced, among other things, a roller skating show that toured the world.
"Roller skating is my heart," he said. "I was rockin' it out there!"
"I used to play a lot of basketball, but there's just no competition within my age bracket," said Robert Clarke, 60, who wore a red shirt with "Swag" written on the front in giant letters. "This uses all the muscles in your body, so all the impurities leave, and you maintain a youthful appearance."
Although the Highline offers rental skates, the Association skaters brought their own. "I cheat," said James Singley. "I put roller blade wheels on my roller-skates, which makes for much sharper edges."  He hoisted his foot onto the railing to show off his skate/blades.
But most skaters were concerned with remaining upright, let alone creating sharp edges to their turns.  They stumbled into the railings, reveling in the nostalgic goofiness of the activity. "It's been so many years since I've roller skated," said Tami Laifer. "I'm so excited!"
And Jeremy Bent, a comedian who has worked as a roller derby referee, said that the rink fills a void. New York once had many rinks, but most closed due to lawsuits, gang violence, and a lack of demand. He's thrilled with the new rink. "In the summer, there's nothing better than skating," he said.