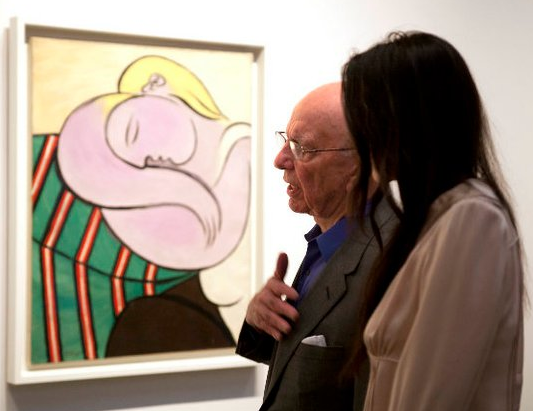 Today Art Market Monitor's Marion Maneker spotted this snapshot of embattled mogul Rupert Murdoch and wife Wendi at the April Gagosian exhibition "Picasso and Marie-Thérèse: Amour Fou" in the gallery's Facebook album.
Mrs. Murdoch is an investor in the "Pandora for art" start-up Art.sy, which Larry Gagosian advises. But her most recent appearance on the art scene (on July 16, while Rome burned) was the Hamptons screening of "Snow Flower and the Secret Fan," hosted by rival Pace Gallery.
The painting pictured above depicts Picasso's decade-long muse and lover Marie-Thérèse Walter, to whom the Gagosian exhibition was devoted.
Not only was she his submissive sexual conquest, artistic muse, psychic victim, and mother of his daughter; she's the fleshy subject of some of his juiciest paintings. Picasso said she saved his life. And it's true that from the moment she appears in his work, in early 1927, his art gets plusher and more immediate, catapulting him out of Cubism, paving the way for all his subsequent efforts. Marie-Thérèse is the fertile inspiration that made Picasso Picasso after Cubism.around the artist's
Picasso was 45 when he picked up the 17-year-old Walter with the line, "I am Picasso."
Mr. Murdoch was 66 when  met his third wife in Hong Kong in 1997. She was 29.