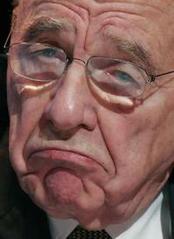 Earlier today, Jemima Khan—an associate editor at The Independent and European editor-at-large for Vanity Fair—Tweeted out a wonderfully juicy rumor: that Rupert Murdoch was refused a table at a posh London restaurant last night.
Ms. Khan's Tweet read: "I'm told, Murdoch and Rebekah Wade were refused a table at The River Cafe last night when they tried to book…Inconceivable a month ago." She continued to note that this was also inconceivable "even ten days ago."
It's true that reservations at The River Cafe are difficult to come by; when we checked, they were booked all week, but we managed to score ourselves a seat at 7PM on Saturday evening. Neat!
So: if we could get into "London's legendary" River Cafe, how hard could it be for Mr. Murdoch, even on his most embattled of days?
Speaking to The Observer by phone after being transferred by one of her very kind reservation-takers, River Cafe owner Ruth Rogers told us that Ms. Khan's sources are patently ill-informed:
"That is untrue," she noted emphatically. "[Rupert Murdoch and Rebecca Wade] were not refused a table at the River Cafe." But were they given a reservation? Like most restaurants, she declined to name her customers, repeating again:  "They were not refused a table here."
Lesson: British journalists who don't hack phones less likely to produce rumors holding water than those that do.
fkamer@observer.com | @weareyourfek