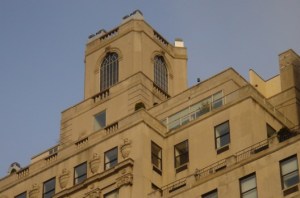 His home! Where he comes to play with his toys. 
The Observer profiled the redoubtable apartment house at 834 Fifth Avenue in 2007, beginning with the immortal lead: "If Jefferson or Jesus were well-heeled New Yorkers and could get past the classy co-op board, they would live in 834 Fifth Avenue."
Generally, the building leans conservative—as in privacy. "And people mind their own business, " ex–Lazard Frères vice chairman Damon Mezzacappa, who lives in a 12th-floor apartment with his socialite wife, Liz, told us back then. "And that's the way we like it. And it's not going to change!"
Mr. Murdoch owns the triplex penthouse, which he bought from a Rockefeller in May 2005 for $44 million—at the time, a New York City apartment record. It has a clear view of the Central Park Zoo, an irony Mr. Murdoch may now appreciate during this tumultuous time in his life.