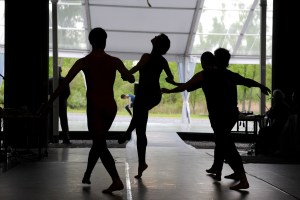 Following a series of six performances at the Park Avenue Armory that will run Dec. 29-31, the Merce Cunningham Dance Company is set to shut down, in accordance with the wishes of its eponymous founder. Today, the New York Times reports that Aug. 15 has been set as the sale date for the tickets to those final shows.
The tickets, which will be available through the Park Avenue Armory's website, armoryonpark.org, will sell for $10, per Mr. Cunningham's stipulations.
Competition is likely to be fierce for those final shows, but New Yorkers  can also catch the M.C.D.C. at the Brooklyn Academy of Music in early December, when it will present six works, including RainForest (1968), which features Andy Warhol's 1966 Silver Clouds sculptures.
In 2009, Mr. Cunningham announced that he would require his company to shut down two years following his death. He died less than two months later. The M.C.D.C. embarked on a two-year world tour in February, 2010.