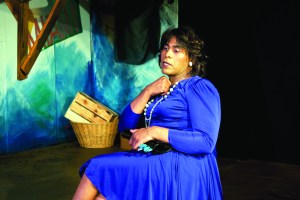 [protected-iframe id="98bcd337b683b9fa98386070e1cfb456-35584880-53155743″ info="98bcd337b683b9fa98386070e1cfb456″ ]
What kind of man makes a one-man show about three sex workers and calls it a comedy?
"It was the marketing team," Roy Arias, head of Roy Arias Studios and Theatres, laughed when asked how Sex on the Beach got billed as a "spicy new comedy about sex tourism in the Spanish Caribbean." He's a barrel-chested man, balding, with a big laugh. The corners of his eyes crinkle endearingly with every chuckle. The day The Observer sat down with him, he was dressed as neatly as a pin: the actor as businessman.
His crisp blue shirt and fitted slacks take him miles away from the stage of the comedy that isn't quite a comedy, even though the theater is right next door to his office. The set is deliberately clichéd: a bamboo bar with a palm-frond roof, one table, one chair. The single string of lights above the bar looks more forlorn than festive. "I don't really think it's a tragedy, either," he reflected. "None of these characters die. The characters are funny; therefore people see it as a comedy, but it has a serious message."
Mr. Arias wasn't laughing when he first became fascinated by sex tourism. "I was looking at the web years ago and I saw something about Cuban jineteras [escorts] and the sex tourism industry. It was very depressing."
It was meant to be depressing, he concedes, and how could it not be? "The guys writing it were really tourists, they were so nonchalant," said Mr. Arias. "They were treating these women like objects." After intense research that led him to read about sex workers all over the globe, the show was born, first in Spanish—"I wanted to write it in English but I kept hearing the characters in Spanish"—and then in English. Mr. Arias got to know many sex workers during his research, and at its core Sex on the Beach, directed by Alfred Preisser, is an attempt to humanize one of the Caribbean's biggest underground commodities.
Mr. Arias takes on an impressive range of personalities in his show. The Puerto Rican Caramelo runs into the bar, hiding from the police. A self-described "maricón [faggot] with cojones," she's worried about the cops, yes, but she's also queen of the hookers, smart enough to escape hustlers, drugs, AIDS. She wants to move to New York, "where the faggots have their own neighborhood."
She's followed by the swaggering Brazo 'E Niño, the ultimate bugarrón, a straight man who sleeps with men for money. His bragging to the bar's owner winds down into a desperate plea for a job that ends with a proposition. The lights dim after he strips off his belt and shirt.
The final monologue comes from the mature Esperanza, a "dentist for the revolution" who feels cheated by the Castro regime. Even with an advanced degree she struggles to feed her son and take care of her ailing parents. She dreams of marrying a tourist so she can one day go back to Cuba as a real lady, a dentist without a side business. True to her name, Esperanza embodies the hopes all three characters harbor.
"These characters are funny because they're not dealing with serious issues at first," Mr. Arias explained. "They're dealing with fluff." Caramelo spends a good portion of her scene complaining about the catty prostitutes she knows; Esperanza's lament about the bus "that may come some time today" rings hilariously true to anyone who's waited on public transport in the Caribbean. But the "fluff" falls away with each successive monologue.
Plays are often as much about their creators as they are about their characters. Mr. Arias has worked as an actor for many years, mostly in English, but his heart is still in the Caribbean. A Dominican who moved to the U.S. at age 9, the sound of Santo Domingo is still very much in his speech.
Why he didn't just write a play about the Dominican Republic, which has its own booming sex trade? "I'm Dominican but I grew up among Puerto Ricans and I went to study theater with Cubans," Mr. Arias said. "The show is about being black in the Caribbean as well, and that has to do with me, and the fact that I did one for all three islands has to do with me because I'm so close to them."
Esperanza's segment came to him in a single night. "Cuban women—not jineteras, just women—make do, even though they have nothing," Mr. Arias said. "They have an expression, 'yo resuelvo,' and I liked that spirit." He knows his characters are more than martyrs. "I think these characters are definitely con artists and thieves, but they are acting out of necessity. I also find them very theatrical; they're playing a role. I don't know that all jineteras have a child, but they do."
Of the three, Brazo 'E Niño tells the biggest lie, calling a client to ask for money for his ailing mother when she's healthy as a horse; for Mr. Arias, that's just part of the trade. And yet he still manages to find his characters sympathetic. "Brazo is desperate, trying to get a job he can't get. As an actor, I've been there. And I don't know if I could be as selfless as Caramelo, but I know what it's like to want to keep someone from making the mistakes you've made."
In his office with his big gray cat Rufus playing under his desk, Mr. Arias recalls a Caribbean literature class he took years ago. The instructor asked the students to explain what the Caribbean meant, and after exhausting the obvious—"rum, naked women, beaches—she said, 'Good, but that's not the Caribbean we're talking about; the Caribbean we're going to be talking about is one of misery, one of death.'" Even though its tragedy outweighs its comedy, Sex on the Beach isn't a call to action. Mr. Arias wasn't inspired by his research to do any outreach work, and it's apparent to him that the Brazo 'E Niños and Esperanzas of the world will have to find their own way out of sex work ("Caramelo has the best chance of getting out; she can just get on a plane").
He laughs before turning serious again. More than anything, he wants us to think about the Caribbean's illusions, "the reality of what's behind the postcard."
editorial@observer.com