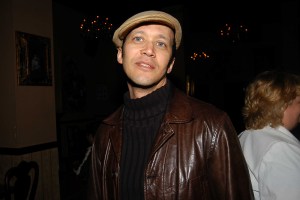 Last year, more than 20 years after the legendary downtown artist Jean-Michel Basquiat died of a drug overdose in his Great Jones Street studio, artist Michael Holman reunited Gray, the abrasive noise band that he started with Mr. Basquiat in 1979. Tomorrow night, in two shows at the New Museum, the group will first perform for the first time since playing at a memorial for the late artist in 1988.
Though Mr. Basquiat eventually drifted out of the band, artists Vincent Gallo, Shannon Dawson, Wayne Clifford, and Nick Taylor also counted themselves as members at various points (as Artnet's Rachel Corbett notes in her piece on the show, which brought the event to The Observer's attention), but tomorrow's concerts will include only Mr. Holman and Mr. Taylor. (Sorry, Vincent Gallo fans.)
"Jean Michel was sort of our spiritual, creative, and aesthetic guide," Mr. Holman says in a 1988 New York article published after Mr. Basquiat's death. "He named the band. He knew the most people on the scene. He knew what was going on." (The band was named for Gray's Anatomy, the book of medical illustrations that was a powerful influence on Mr. Basquiat.)
It's hard to say what it would have been like to see Mr. Basquiat play music, since few recordings exist of the concerts that the band played when he was a member, but musician Richard McGuire says in English music critic Simon Reynolds's history of post-punk music, Rip It Up and Start Again, that the artist played "a fucked-up little toy synth with colored keys through some effects boxes." Sounds amazing.
For those who are unable to attend one of tomorrow evening's shows, Ms. Corbett notes that Gray can also be seen in the 1996 biopic Basquiat, which was directed by painter Julian Schnabel and financed, in part, by the Greenwich, Connecticut, art collector Peter Brant.