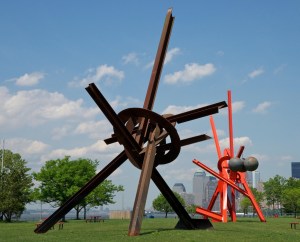 Even now that it has been open to the public since 2006, going to Governors Island still feels like trespassing. The road is rocky and uneven, the grass is overgrown and most of the buildings are unoccupied. That's evidently all part of the island's charm: 200,000 people have taken the ferry since the visiting season opened on May 27.
Last week, Mayor Michael Bloomberg stood at a podium surrounded by a sea of beige suits and white summer dresses. Among them was 78-year-old sculptor Mark di Suvero wearing a bright orange work shirt with a peace sign scrawled across the breast pocket. He had a scraggly beard and his white hair stuck up in several directions.
"He used to call me his 'favorite communist,'" Mr. di Suvero said of the mayor.
They were there to celebrate "Mark di Suvero on Governors Island," an exhibition of the artist's sculptures presented by Storm King Art Center, a 500-acre sculpture park in the Hudson Valley. Mr. Bloomberg was reminding the crowd of the island's features.
"This is not all city property," he said. "The federal government, who we sometimes acknowledge, does own the forts here."
That's true, but there was a dollop of sarcasm in his tone.
"If you're a British ship sailing into the harbor and you look like you're going to threaten us," Mr. Bloomberg continued, "these forts are ready to defend New York City and America!"
And if all else fails, one could take shelter among Mr. di Suvero's hulking, sturdy sculptures, at least until Sept. 25, when they are deinstalled. With their combination of bright primary colors and rusted wear, they somehow look at once alien and at home on the island. We were gathered in front of Mr. di Suvero's New Beginning, a mix of muscular industrial materials—it was made of bent steel resting on an I-beam—and delicate patterns and symmetries that towered over the mayor and the crowd around him.
"I think what's really important about human beings in this kind of life that seems to be so driven by economics … " Mr. di Suvero began saying at the podium. Then he stopped, and began again: "What is interesting is what is voluntary—where we do what we wish to do in spite of money or whatever is afflicting us." (The exhibition is free and open to the public.)
Mr. di Suvero said the show was "very difficult" to set up—there was rain to deal with, and barges and cranes. Many of the pieces are as large as buildings, like the 60-foot-long Old Buddy (For Rosko), which is dedicated to the artist's dearly departed dog. It loomed at one end of a large field, illuminated by the sun peeking out through a break in a thunderhead starting to roll in. Its stark lines and sharp angles were imposing and sad. It looked like an elegy. "My pieces are much more like music in the sense that they're just not one tone. They have a lot of complexity—" he was cut off by a coughing fit. Someone handed him a glass of water.
"Does this ever happen to you?" he asked the mayor.
"Yes, of course. That's why I learned not to eat popcorn before I speak."
"When the president was kind enough to give me the citation," Mr. di Suvero continued, referring to the National Medal of Arts that President Barack Obama awarded him last year, "they told me I wasn't allowed to speak."
The work speaks for itself. Governors Island is the perfect setting for Mr. di Suvero's pieces. The I-beams that create the angular patterns and lines of his sculptures are worn down and, seen up close, look vulnerable, despite their tough material. Similarly, the mostly abandoned residential buildings of the island and their surrounding grounds look glamorous from a distance, but reveal small imperfections upon close inspection—a broken screen door, a dying branch of ivy, a cracked shutter.
The sculptures seem to reference this long-untouched place of New York history, as if they were once the beginnings of newly developed buildings left and discarded in midconstruction. Po-um (Lyric) juts out of a hill looking like a dying steel flower, its petals ready to fall. The reflection of the sun in its steel shape is daunting and foreign. For Chris and Fruit Loops, by contrast, are rusted brown. They sit unobtrusively among a row of trees blending in with the bark and dirt, looking like they've always been there.
After a loop around the island, The Observer asked if Mr. di Suvero would talk more about his work.
"Sure," he said.
The Observer produced a digital recorder.
"You mean now? No. Oh, no. Absolutely not. I'm an old man and I'm tired."
He then began to sing a bit of Verdi in a booming voice that was surprisingly close to being in key.
"Interview the sculptures," he said when he was finished.
mmiller@observer.com