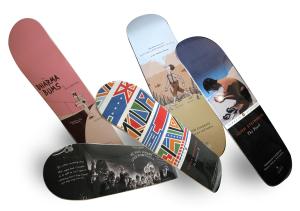 We're a little disappointed with the Penguin Classics Skateboard Photo Contest on Facebook, in which literary skateboarders submit photos of their skateboards with a copy of a Penguin Classic to compete for the opportunity to win a Huckleberry Finn skateboard deck.
Is that a schoolyard status symbol these days?
Anyway, a few of the people posting seem to have missed the point that there's supposed to be a book or reference to a book somewhere in the photo. Right now we would cast our vote for the photo of a cat sniffing copies of Conservatives Without Conscience (published not by Penguin Classics but by Viking, a Penguin imprint) and The Basque History of the World (listed under Amazon as "Penguin (non-classic)"), but we might also vote for the one with Gravity's Rainbow. Pynchon vs. kitties — please don't make us choose.