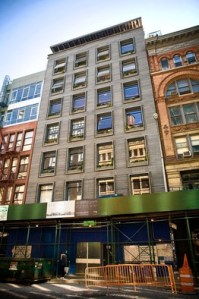 Manhattan's housing market hasn't fully recovered just yet, but you wouldn't know it if you checked out 41 Bond downtown.
The luxury condo building between Lafayette and Bowery streets nearly sold out in only about a month's time, and units are priced north of $2,500 per square foot for just the lower-level apartments, according to The Wall Street Journal. Could it be those foreign buyers looking for pieds-a-terre near the financial district?
All but one unit—the townhouse—are now in contract along the strip that has morphed from a rat-infested strip to one with high-end retailers and restaurants.
And not only are the units at 41 Bond selling fast—they're selling at pre-Lehman prices.
"We've sold the majority of units in the building at pricing comparable to 40 Bond in '08," Joe McMillan, C.E.O. of developer DDG Partners, told The Journal during a tour of 41 Bond. "The only thing is that I wish I had more of them."
pengel@observer.com