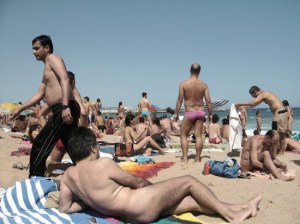 Maybe The Observer was wrong. Maybe Coney Island can still be cool, or at least crazy. All it takes is some nudists.
According to The Brooklyn Paper, the American Association for Nude Recreation—The Observer's favorite patriotic institution—would like to see segregated "nude" and "prude" beaches set up on the storied seafront stretch.
"It would work out great because it's easy to get to," nudie spokesman Tom Mulhall said, who added that such a hot spot could stimulate his group's membership rolls. "People may realize they love the personal freedom that comes with going nude on a beach."

And his clothes-bereft friends agree.

In an online survey, members of the association placed Coney as one of the top 15 places in the world they would like to see the ban on nude sunbathing fully disrobed.
The Parks Department is none to keen on the idea, pointing out bathing suits are required at the beach. Which is interesting because we thought it was legal in New York to go topless so long as you're not being lewd. (Ever been to the Mermaid Parade?)
Interestingly, Coney Island historian and maestro Charles Denson points out that there is a history of nude bathing in Coney Island, albeit in guarded shelters. Nudists were visible from the rides, of course.
In the meantime, we'll have to occupy ourselves with trips to Jones Beach and personal favorite Robert Moses State Park—could there be a bigger honor than to have a nude beach named after you?