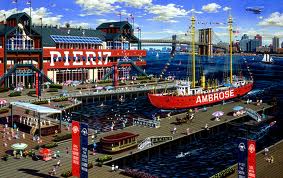 The Observer received an email last week from a publicist for "Dialog in the Dark," a new exhibition by the people that brought you "Bodies…The Exhibition."
"I just found out that due to water issues in the South Street Seaport bulding that houses Dialog in the Dark, the opening of the exhibition has been postponed," the e-mail read. "At this juncture I do not have an exact opening date."
"Dialog in the Dark," organized by Premier Exhibitions, Inc., replicates New York City locations like Times Square, Central Park and the subway and, essentially, turns off all the lights so that viewers are confronted with these environments in complete darkness. The audience will be "armed with authentic walking canes" and will "[rely] on blind or visually-impaired guides." (We wonder what would qualify as an inauthentic walking cane.) The exhibition was scheduled to open July 16. There is as yet no new start date.
"Water issues" sounded ambiguously ominous, so we called up the publicist to figure out what was going on. He said, "There have been, for a while, situations with flooding in the building. It rained and parts of the exhibit…got wet."
Given the darkness and the visually-impaired docents, we can see how wetness might pose a liability. Anyway, get dry soon "Dialog in the Dark!" See you when you're up in running. Well, not "see you," but, oh, you get the idea.