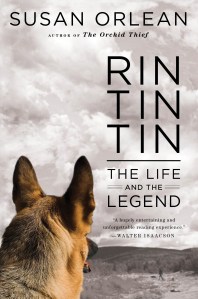 Rin Tin Tin
, the nonfiction book about a canine celebrity written by Susan Orlean, is coming out in October, and Simon & Schuster head Jonathan Karp is already sending out copies. (This is by no means unusually early, but certainly the company wants to waste little time: Ms. Orlean's last long-form nonfiction book,
The Orchid Thief
, came out in 1998.) New York Times Magazine journalist
Benoit Denizet-Lewis
bragged on Twitter about having received one: "@
susanorlean
Jonathan Karp just sent me a copy of Rin Tin Tin. Can't wait to read!"
(Mr. Denizet-Lewis is working on a book about dogs, the subject, in fact, of Rin Tin Tin as well.)
The Marriage Plot remains the season's top status galley (have you read it? Have you read it?), but Ms. Orlean's dog tale–aided by Ms. Orlean's availability on Twitter, her immense popularity (although no one ever seems to talk about her weird, cashing-in book about how to be anorexic) and her absence from the book-writing scene, acknowledged in Simon & Schuster's ad copy ("After 8 years in the making," the  book "is finally here—almost!")–may yet pull alongside Nicholson Baker's House of Holes for second-most-show-off-on-the-train-worthy.
ddaddario@observer.com :: @DPD_