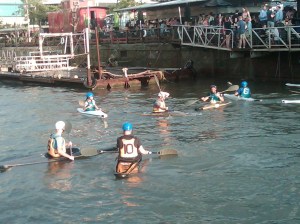 Arriving to the Pier 66 boathouse on the Hudson River Wednesday evening, The Observer admitted we hadn't been in a kayak for at least ten years. Even then, we just splashed around at summer camp.
"Do you know how to swim?" asked Lev Grote, president of the New York Kayak Water Polo Club. "That's key."
We turned our attention down to the clipboard and signed a liability form, kicking ourselves for having skipped the intro session earlier that month. Though Grote had offered us the option of the "Friendly Friday program," which had been promised to be less crowded and slower-paced, here we were – armed with a swimsuit and towel as our only preparation for the two hours to come.
"We want to make it possible for people to enjoy the sport right and for people to learn about it," Grote said of the group. "Most people don't know what kayak polo is, of course."
The sport is meant be played on flat water, such as a pool or a 35 by 75 meter space called the "pitch" according to official rules, but in the summer months the New York Kayak Polo group embraces its local home, hosting practice sessions at the Hudson several times a week.
Formed in 2003, initially the group was "sort of a ramshackle operation" according to Grote, storing its boats at the nearby Frying Pan restaurant. Two years ago, the paddling enthusiasts applied for space next door at Pier 66. With membership remaining around 25 people (the fee is $150 per year), a core bunch now practices two to three times a week, though more sporadic attendance is common among the others.
"The thing about the club is there's so many different interests," said Margaret Mann, coach of the women's team who also competes internationally. "There are people who are super competitive…  and then there are people who just want to have fun."
These different motivations, Mann continued, can create conflict and make it difficult for those at the top to improve. The club oftentimes does not have enough "top notch players" to select from for tournament teams, added founding member Dmitri Bougakov who is gearing up for a Canadian tournament this weekend. A neuropsychologist, he speculated that perhaps the group needs to recruit younger members (most now are in their 30's).
Drinks in hand, onlookers from the deck of the Frying Pan always cheer on the players, pointing down at the bumper-equipped boats as members dribble, pass and shoot the ball at nets suspended a paddle-length above the water. Cheers arise as they "hand-tackle" or "kayak-tackle" in a flurry of water and paddles. Occasionally, the temporary fans ask them to toss a ball up, but they never ask to join in. As Mann put it: "It's a really hard sport to get people to play for so many reasons… For me, personally, I just feel like I was meant to play this sport."
Lucky for them, The Observer was ready to learn yesterday. We were not bothered by the conversion of the typically serene kayaking hobby into an aggressive team sport. We were not afraid of the blue and yellow polo ball. We were not part of that "certain proportion of people who has no interest in getting into the Hudson," as one member described.
Ready for the challenge that lie ahead, we snapped on life vest #91, pulled up the kayak skirt and buckled our helmet. But just as we prepared to enter the water, another member dragged her boat out.
Feces were floating under the dock.
After some deliberation, several of the group who milled about the boathouse decided that since The Observer was certain to go under, it would be wise to pack up for now and learn another day.
Turning to go, we explained our plight to Bougakov, who shrugged and argued that his immune system had been built up over the years, so he would be just fine. "By now it's our natural environment," Bougakov said in his Russian accent, moving to get his gear.
Other members made preparations to enter the water as well, pulling boats from their racks and dragging them out onto the dock. After all, when a rainstorm blew through during practice last week, they had played on. A handful of excrement wasn't going to stop them.