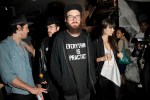 Like father, like son, Jake Sumner has begun to carve out a real estate empire in the city. Dad Gordon Sumner (a.k.a. Sting) has owned a string of apartments in town, originally trading up to 15 Central Park West from the neighboring Brentmore.
Unlike the former Police frontman and sex marathoner, Sumner fils prefers his digs downtown. He just purchased the penthouse at long-stalled 17 Orchard Street, a seven-unit sliver of a condo that came on the market only a month after Lehman collapsed. The original asking price was $1.695 million, but Mr. Sumner–the occassional model is all of 25–paid only $1.27 million.
The two-bedroom home is "the newest to hip Lower East Side living," according to Shelley O'Keefe's Corcoran listing.  "Located on one of the most known and loved streets on the Lower East Side, 17 Orchard offers the highest standard of modern living." The 1,316-square-foot spread features two bathrooms and a chef's kitchen that "will make your friends green with envy when they see your expansive marble counters, custom cabinets, and Kitchen Aid stainless steel appliances." There is also a 298-square-foot terrace.
Mr. Sumner, Sting's second of four children with his second wife, Trudie Styler, appears eager to sell his current Soho penthouse at 105 Thompson Street. It came on the market June 15 for $549,000 but the price was cut to $499,000 all of eight days later, a price only $49,000 higher than what Mr. Sumner paid for the home in 2007.
For that kind of money, the one-bedroom co-op cannot be that big, a fact belied by Town broker Suzun Bennet's listing, which describes the place as a "Parisian style loft." It's a walk-up, too, so we're picturing more of a garrett. Still, Mr. Sumner seems to have given the place a thorough going over.
"The pre-war gem apartment has been recently renovated to feature richly textured, beautiful, natural and environmentally friendly reclaimed antique wood throughout," Ms. Bennet writes in the listing. "The floors are oak, from 100 year old antique barn siding. Comfort combines with flexible and dynamic use of space in the living room with hand-crafted, well designed reclaimed pine living room shelving surrounding the working fire place."
And in the bathroom, there is reclaimed wood from a few of dad's guitars. Only kidding, but if there was, it would probably help the place sell.