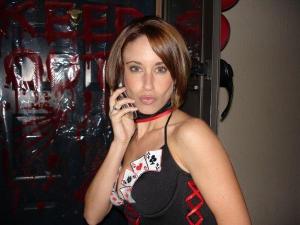 I hesitated to ask the question. "Does anyone relate to Casey Anthony?" I said to a group of 20-something women. "I mean, at all? If she did plot to kill her child, can anyone understand where she's coming from?"
I'd rather have asked the group if they felt a close personal kinship with Jeffrey Dahmer. "No," was the universal consensus.
But more quietly, individually, each pointed out that they could understand that motherhood could be exhausting, and how nice it must have been for Casey to be able to go out and get a tattoo just because she felt like it.
"Look," a friend of mine whispered, "Jen, you have to remember how young she was. She's only 25 now."
"Oh, for heaven's sakes," I replied, "we're 25. She was out competing in a 'hot body' contest a few weeks after her daughter died. Who does that?"
"But that's what your 20s are generally for," she answered softly. "For competing in hot body contests."
I did start to think about what I had done the previous day and how much of that I could have done if I had a child. Assuming I could sink most of my salary into a full-time nanny or day care, I could still go to the office and eat lunch. But it's hard to justify saying you'd rather see X Men: First Class than spend time with your infant.
But isn't motherhood supposed to fill you with so much joy that those desires become nonexistent?
My friend Koa, an editor at parenting site Mommyish notes, "The Casey Anthony case reminds us that mothers typically move through our culture with certain one-dimensional identities."
Sure. You're supposed to take on a gentle, vaguely angelic identity.
But maybe motherhood isn't your life's greatest moment. Maybe you still dream about what it would be like to compete in hot body contests. Does that make you terrible?
When I was 11, my English class was given an assignment to go home and interview our parents about the happiest day of their lives. I believe my father said, "The day I married your mother," which was the right answer. Gold star, Dad.
Then I asked my mother.
"Well," she said, "I was living in New York. I was in my 20s. And I went outside—it was the fall—and bought a pretzel at one of the vendor carts. And the pretzel man let me have it without the salt, because I don't like the salt. And it was good. And I just loved my job. And I loved being in New York. And I realized, even at the time, that at that moment, I was just totally happy."
I explained helpfully, "You're supposed to say, 'The day you were born, my beautiful daughter.'"
"Oh," my mother said, after which she paused from reviewing my math homework for a second and considered.
"No," she replied cheerfully, "no, that wasn't it. Definitely the pretzel thing. Go with that."
At the time, I told her she was a bad mother and went off to scrawl an angry essay about how she loved a pretzel more than she loved me.  Of course, if I had read the article in The Daily Mail last week entitled "Am I a Monster for Wishing I'd Never Had Children?" I would have known that she was not a bad mother for thinking wistfully of a more free and breezy life. I would have known that she was a monster.
The article was about a 50-something woman who raised two boys but never had time to develop a career or go to university. Now she wondered what life would be like if she'd done things differently.  This seemed like stuff that Robert Frost pretty much covered in 1920, but I checked the comments.
"I am disgusted by this woman. If your life was 'not what you wanted,' you should have either a) never had children or b) been brave enought to give them to familys that love children unconditionally."—Rachel, England 7/2
If motherhood is that much of a black-or-white proposition—if you're never allowed to feel anything but abject gratitude to be blessed with the care of miniature people who, let's be honest, can't really make witty conversation and frequently defecate on themselves—then maybe it's understandable to want to escape.
I called my mom. Did she ever want out?
My mother paused. "There was one time I wanted to leave you. You were 3. We were at a Chinese restaurant. Everyone was tired. It was tense. Dad hadn't liked the food. And we finished and I said, 'We're going to the car, now,' and you walked in the other direction. And I said, 'No, no, no, it's this way,' and you lay down on the ground and just started screaming. And I seriously thought, 'I will just walk away and not turn back.' And at that moment I wanted to. But I didn't."
I told my mother that as a belated reward for not leaving me 22 years ago, the next time she comes to New York I will buy her all the pretzels.
editorial@observer.com