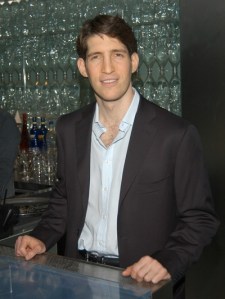 Six years ago, 249 Church Street would have rated a 22 or 23 in Edward Ernst "Ted" Zagat's book. The restaurant survey scion purchased a three-bedroom loft there, perhaps for the proximity to Bouley, The Odeon and Nobu, for $1.6 million. Having joined Facebook in April, he just sold the home for a very friendly $2.15 million.
While Mr. Zagat came to Tribeca from his native Upper West Side, the buyer is even more of a foreigner. Aidan P. Flatley is president and C.E.O. of the Ontario-based Kenaidan company. (Get it?Founded with a guy named Ken, sounds like Canadian—these guys are clever.) Mr. Flatley's daughter Margaret is also listed on the deed and currently resides in the Village. According to a source, the 1,700-square-foot home is for her.
The fifth-floor loft feels like the perfect launching ground for a web start-up, with its 12.5-foot ceiling. With 11 huge windows on three sides, the apartment is flooded with light. "249 Church St or also know as 65 Leonard St, was built in 1915 and has a sandstone exterior highly decorated in Italianate and second empire style ornament architecture," write Corcoran brokers Darren Kearns and Davina Rosenbaum in their listing.
"It's a great property since there really aren't that many condos in this size in a building this small," Mr. Kearns told The Observer. He said this is why the apartment was bid up over the $1.95 million ask, going to contract in 31 days and closing two weeks after that. "It hit a nice target," he said.
So will Mr. Zagat be following the geek exodus to Chelsea or Brooklyn? Mr. Kearns said the plan is in all likelihood to relocate nearer to the Facebook mothership in the Bay Area.