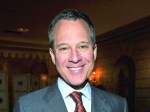 On Sunday morning, New York State Attorney General Eric Schneiderman sat in a back room of the Abyssinian Baptist Church, one of Harlem's most storied chapels, and prepared to give his first Sunday sermon. Hundreds of parishioners sat in the pews, along with a few hundred more tourists, expecting to hear the kind of stirring oration for which Abyssinian has long been known.
A deacon, dressed in a gray, striped, seersucker suit, tried to reassure him. "Just go up and be yourself, man," he said. "You ran a righteous campaign. People know you, and people need you, and once you get on a roll, people aren't going to let you sit down."
In over a decade in the State Senate, Mr. Schneiderman developed a reputation as a wonky, left-leaning legislator, if not a particularly gifted orator. But his 2010 campaign—which succeeded on a platform of unabashed progressivism, amid a Tea Party climate that turned even stalwart Democrats into mini-Grover Norquists— turned Mr. Schneiderman from another downballot contender into the last, best hope for a liberal future.
"Well, it's great to be here in a great house of worship and a great house of action," Mr. Schneiderman told the deacon, before trotting out a line he would later use in his sermon. "And it's not just in the seats—it's in the streets, you know what I'm saying?"
The deacon smiled at the Harvard Law grad suddenly talking in the rhythms of the pulpit. "Now," said the deacon, slapping the table. "You really could be joining us now."
During the campaign, Katrina vanden Heuvel, the editor and publisher of The Nation, called his win "solace for the political soul on a grim election night." In the Huffington Post, David Sirota declared his primary race "the progressive movement's carpe diem opportunity."
"Looking at what this man has to offer in this high-profile office with the power to steer the national debate, it seems obvious that a New York loss would be a setback for all Americans," said the Daily Kos.
He ended up beating a tough-on-crime suburban prosecutor in the Democratic primary by making the race for the state's chief law enforcement officer into a question of not who would lock up the most bad guys, but who would end the practice of overincarceration. Afterward, he ignored advice to tack to the center in his general election campaign against another popular district attorney, and made the race about social justice and abortion rights. He won by double digits.
And now that he is in office, Eric Schneiderman is not merely the attorney general of the State of New York. He is someone imbued with the hopes of left-wing America during a time when one-time heroes (like Barack Obama) seem happy to negotiate away the store and others (like Anthony Weiner) have exited the stage entirely.
"The Democratic Party always seems to be trying to accommodate, and the conservatives always seem to want to hit back harder and harder," Mr. Schneiderman said in an interview in his downtown office. A tiny statue of the Buddha sat on his desk, alongside books like The New Jim Crow and a biography of Sir Thomas More. "This is an era when the next stage of conservative triumphalism is: Well, Bush did it as a Republican, and now even Democrats are doing it.
And so a lot of Democrats have pulled backed from their advocacy of regulation as something that makes us all safer, and makes us all capable of generating wealth over the long term."
"In the long run," he continues, "politics is really about changing people's consciousness."
For the first few months of 2011, the attorney general's office was relatively silent. Progressives feared that their chosen hero was choosing to wait out the Tea Party's moment as, across the country, pensions were slashed and collective bargaining rights curtailed. Ms. Vanden Heuvel said several friends sent to her with alarm a January article in The Wall Street Journal that wondered if Mr. Schneiderman "may be good news for Wall Street."
In truth, Mr. Schneiderman was just biding his time. Albany was, for the moment at least, Andrew Cuomo's town, as the new governor pushed through a new ethics bill and an austere budget, even as the Democrats who voted for him fretted that he cleaved to a relentlessly centrist agenda.
And Mr. Schneiderman was still taking stock of an office with 1,700 staffers and attorneys and hundreds of active cases inherited from his predecessor. He brought on well-regarded political types like Neal Kwatra, a labor organizer who turned the hotel workers union into a political powerhouse, and Blake Zeff, a former top aide to Hillary Rodham Clinton, and he named Harlan Levy, a partner at the white-shoe law firm of Boies, Schiller & Flexner and friend from his college days at Amherst, his principal deputy. He became a suddenly scarce presence among the Albany and New York City press corps.
And he went around to religious and business leaders to reassure those who feared that Mario Savio was taking over as the state's chief law enforcement officer. He spoke before the Association for a Better New York, met with Archbishop Timothy Dolan and traveled upstate to meet with energy lobbyists and gun-control opponents.