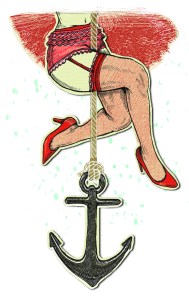 BEHIND TWO BLANK DOORS on an industrial corner in Red Hook, a few blocks away from the shimmering waters of New York Harbor, three girls in skimpy French lingerie stood cleaning Champagne flutes. It was last Saturday, and though the sun still blazed outside, in a few hours a fledgling nightlife venue would take over this sad pitch of concrete, wedged in with the maritime warehouses, huge iron-box buildings affixed with faded life preservers and dilapidated wooden mermaids. The place was Paris Burlesque Club—a Belle Époque sin den decked out with chandeliers, velvet Victorian fainting couches and fresh-faced Russians in lacy underwear and fetchingly miniscule pasties. Outside, an anchor adorned the awning: it is, after all, a burlesque club in Red Hook, for Red Hook.
It was the calm before the club's first night, and David Ruggiero, the owner, had stepped out for a moment. Pete, his business partner, was wearing a pork pie hat and a studded leather vest, and he was hauling a box of something behind the bar. Beer, perhaps, or juggling equipment, or a peacock-feathered headpiece—the possibilities abounded. It's always night in here, as windows were outlawed, but the white overhead lamps glowed bright, and we could see the secrets in the plush sofas, the wicked nooks, the places where things could happen, the private rooms and the girls wearing, well, basically nothing. (Wait, was this place really a "burlesque club," as it claimed?) A dash of the lurid cut the Old World elegance with a sharp tang of modern sleaze.
"Let me turn the lights off," Pete said. He flicked the switch and traded florescent bright things for soft red beams that ran from the phony portraits of French aristocracy across the ceiling to the stage.
Pete glanced over at the girls washing glasses.
"It's better in the dark," he said. "Isn't it?"
BROOKLYN-BASED FANS OF BURLESQUE, that French spin on skin-and-sex exhibitionism, rejoiced last January when Community Board 6 approved the liquor license for a place called, simply, Paris Burlesque Club. Mr. Ruggiero promised to ban those under 25, keep away riffraff seeking stripper poles and grinding lap dances, and enlist professional, by-the-book security. Despite a murky past—running some security at Citi Field? Manning the door at Ruby Lounge?—he got the go-ahead.
The Observer returned after midnight. The crowd by then consisted of hefty Red Hook locals and thrill-seeking Williamsburgish 20-somethings, but the men never seemed to outnumber the young women in garters. They circled slowly in heels, looking bored or downing cocktails or writhing up on men at the marble bar. And the men watched them, and watched the performance onstage, and the performers clawed at bra straps, unfixed the hooks, leaving just tiny tape-lets placed over nipples.
"You look sad," said a girl in a tiny white corset and matching frilled panties.
Then her hand wound around our neck, her thigh pressed very tight up against our thigh and her nose brushed at the tip of our nose.
"Yes," we responded. "I am very sad."
Her lips were now against our earlobe.
"Would you like a dance?" she asked.
She called herself Jaine (we discovered the unconventional spelling after she wrote it, along with her email address, on a Radeberger coaster). She lives on Long Island. She's Russian—she apologized repeatedly for her poor English—and had taken the job to avoid falling into another, older profession. Paris Burlesque Club, she explained, was run on an adjusted pay model, in which certain dancers can charge more for their service. Jaine charged $30, Roxana said she charged $35, but Casey, well, she charges $22.
"No, I've never been to Paris," Jaine said, taking a last gulp of her Bailey's.
"Burlesque's making a comeback," said Mr. Ruggiero, whom we found in the back, watching a glittered dancer glide nicely into the splits. He's a short and immense guy, and he had placed at his table a few other men of that same stature.
"It's classy, you know?" he went on. "It's like Boardwalk Empire. I wanted to bring that to the neighborhood."
The dancer onstage contorted back her arms and fondled the clasp on her bra.
"No, no, there's going to be absolutely no nudity," Mr. Ruggiero said.
A man of his word, he looked up at the topless girl and, like the others, she too had coin-size pasties taped to her breasts.
It had gotten late and we were far from home, so we said goodbye to Jaine and walked out into desolate Red Hook with a young couple, Joy and Mika.
"I thought it was this artsy thing," Joy said as she unlocked her fixed-gear bike from a street sign.
"There is something fishy about it … " Mika said. "What's the deal, what do they do in those rooms?"
He stuffed the lock in a backpack and slung a leg over his bike, and Joy climbed atop her own.
"I thought it might be something, because burlesque is like fashion," Joy said. "But actually it's, it's—it's a strip club!"