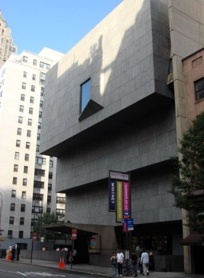 With most New York commercial galleries getting ready to close for August, New York art critics published some of their last reviews of summer shows this week and began opining on broader, more controversial topics. Below, five highlights from the week in criticism:
5. Cotter Questions the Met's Plans for the Whitney's Breuer Building
In today's New York Times, critic Holland Cotter comes out against the Met's plan to use the Whitney's Breuer building for exhibitions of modern and contemporary art, once the Whitney moves downtown. Mr. Cotter notes that contemporary art is everywhere in New York these days. "Now the new doesn't need a champion; the old does," he writes. His proposal? Let the Met curators each organize one of their dream shows. And he has some fighting words: "The Breuer building … should be a strictly curator-run space, with management types, bookkeepers, strategic planners, etc. staying up at 82nd and Fifth, or wherever they keep themselves."
4. Maccarone's "Medicine Bag"
Mr. Cotter also files a short review of Maccarone's wonderful summer show, "The Medicine Bag," writing, "In this group show of tough little delicacies, differences among self-taught art, outsider art and well-schooled-insider art are pretty much indistinguishable, and artists of different generations look like contemporaries." The show runs through Aug. 12.
3. Double Polke
Leo Koenig, Inc.'s current show of Sigmar Polke photography–the first-ever New York survey of that work–earns largely favorable reviews from both Roberta Smith in The New York Times and Megan Heuer on Artforum.com. "Rather than constructing an image, Polke destroys it, undermines its credibility," Ms. Heuer writes, flashing The Observer back to our Rosalind Krauss days. "The photograph becomes a palimpsest rather than an index." Says Ms. Smith, "There is much … evidence here of the peculiar magic, made from almost nothing, that was Polke's signal specialty." The show runs through Sept. 3.
2. "For the Kids"
In Time Out New York, Anne Doran lauds Salon 94's unusual, under-discussed show of sports posters by the Costacos brothers (and three works by Jeff Koons) as "smart and fascinating," and points out that the "Reagan-era aesthetics" foreshadow the work of artists like "Richard Prince, Seth Price and Josephine Meckseper." The show, titled "For the Kids," closes Aug. 5.
1. A Fight for Freud?
This is not so much art criticism as it is speculation and name-calling, but Charlie Finch's latest column on Artnet feels worth mentioning, if only for its sheer ridiculousness. Noting that Acquavella has purchased five days of paid obituaries for Lucian Freud in the The New York Times, Mr. Finch surmises that a battle is underway to represent the late artist's estate: also in the hunt, he imagines, are Jay Jopling of White Cube, the Glimchers of the Pace Gallery, and Larry Gagosian.
Mr. Finch also offers that Marc Glimcher, with his "grizzled beard and graying hair [is] suddenly the spitting image of his dad in gravitas." Gagosian, he says, is "childless and heirless," and is "in danger of becoming the art world's Hugh Hefner." Classy. And Ai Weiwei? (A favorite cause for Mr. Finch.) He is "a tiny, if irritating, pebble in [the] diamond encrusted shoe" that is the art world. Which actually sounds about right.