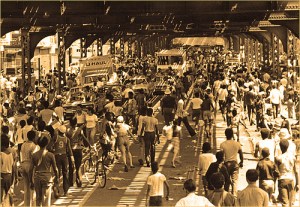 It's kind of surprising that it hasn't happened already, that it took until July 17, 2011, for The Times to write one of its "Living In" columns about Bushwick.
After all, the paper, in its unending fixation with the mysterious borough of Brooklyn, has written about Bushwick no fewer than 164 times in the last 12 months, according to Nexis. (Theirown archives say it's 10,000+ times, but that seems a little high.) Compare that to 2006, when Bushwick was mentioned a mere 112 times. In the intervening years, those numbers were 133, 131 and 147. We smell what the Styles section would call a trend.
The trend has also been away from the typical fair of crime, arson and neighborhood mayhem and toward the much plusher confines that pass for news on Eighth Avenue these days. There is the no-longer-bourgeoning art scene, the new hipster mini-mall on Wyckoff, collectives!, how Roberta's may just have the best pizza in the city, if it weren't for the schlep (which can't be worse than going to DiFara's).
A healthy number of these stories are about real estate.
What, then, is so special about a "Living In" column? Well, it is a rite of passage of sorts, a coming of age, in the eyes of the Gray Lady, of a neighborhood. There was Cobble Hill in 2001, and again in 2006. Oh, and we almost forgot, 1983, when it was referred to, no longer, as "a poor man's Brooklyn Heights." Why? Because the houses were selling for more than $400,000. Crown Heights had its debut in 1985, and did not reappear, with the tide on Franklin Avenue, until last year. It took longer to come around to Bed-Stuy—2003 and 2009, the same two years Greenpoint got the treatment.
Bushwick was certainly no worse off than these neighborhoods back then, so it is a mystery what took so long. Certainly the housing stock is beneath those mentioned above, though the violence and test scores are at times and in places comparable. Perhaps the right demographic had simply not shown up yet.
One of those residents, an entrepreneur named Katja Bartholmess, said it was precisely this new activity that attracted her and her husband, Daniel Susla, to the apartment they bought on Knickerbocker Avenue this year.

"I like areas that are transitional, where things are happening, where I can see potential," said Ms. Bartholmess, who runs a branding strategy company, Copygold.com, and sells baby clothing at Babysnappy.com. As a native of East Berlin who saw her city grow after the wall fell, she added, "I view transition and change as a very positive force."

Their journey to Bushwick, like many others recently, began in Williamsburg, where Mr. Susla, a music executive, was living when Ms. Bartholmess immigrated from Germany. They moved into an apartment on the neighborhood's south side and stayed for four years.

"We had a big patio there, so we had concerts, and masquerade parties, and an underground restaurant for a few months," Ms. Bartholmess recalled. Still, after a few years, a staleness set in as the neighborhood gentrified. "It's now a perfect place for someone else, not me," she said.
You see, Bushwick is not stale.