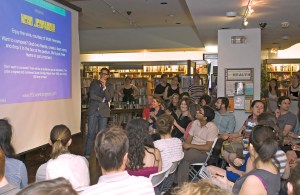 Publishing girls and boys gathered in the downstairs of McNally Jackson last week to drink free wine, test their publishing IQ and win a signed Susan Sontag reader.
Farrar, Straus & Giroux's digital marketing manager Ryan Chapman played Alex Trebek at Nerd Jeopardy – which is like regular Jeopardy but for people who work in publishing (so, nerdier?).
The teams named themselves after things that people in publishing like doing – "Ladies who Brunch," "We Just Came for the Wine," and "We Have No Name." "We Have No Name" won.
The winning team featured lit bloggers Molly Templeton, Tobias Carroll and Alex Fredricks.
The 4 cases of Chardonnay and Malbec was courtesy of Moet Hennessy, and, like most summer events, the white went fast. Mr. Chapman has a friend at the luxury label and said "they like sponsoring hip downtown events."
McNally Jackson's events coordinator Michele Filgate said she is trying to turn book readings into fun events.
The teams, who buzzed in by blowing a train whistle, gave their answers in the form of a question to categories such as "Fighting Words" and "Dead Swedes."
Sample question: "This Trinidadian-British author and Nobel Laureate managed to insult all female authors; do you think he could tell this clue was written by a woman?" The answer, of course, was V.S. Naipaul. Um, we mean, who is V.S. Naipaul?
Special guest, Sag Harbor author Colson Whitehead came by to read the Daily Double. We thought his long dreads looked familiar. He left shortly after to finish his essay about poker for Grantland, his second glass of wine still in hand.
Short-story author and BookCourt employee Emma Straub asked the other Daily Double via video (she was on vacation).
When the contestants seemed stumped by the author of recently released Tabloid City, Mr. Chapman pointed out that many of the people in the room work for the publisher and there are copious ads for the book on the F train. That seemed to jog the memories. Eventually, someone blew their train whistle and said "who is Pete Hamill."