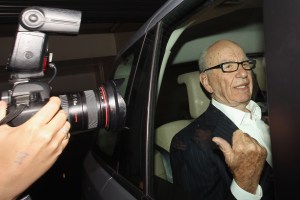 THE BRITISH TABLOID News of the World's long-standing defense that illegal phone hacking practices were the work of one "rogue" reporter resoundingly collapsed this week.
Previously believed to have been the practice only of royal editor Clive Goodman and his private investigator Glenn Mulcaire, the alleged illegal voice mail hacking, or hacking attempts, it turns out, targeted everyone from families of dead soldiers to former prime minister Gordon Brown and the Scotland Yard investigators sent in to sort out this mess.
The revelations make Dow Jones CEO and Wall Street Journal publisher Les Hinton's approval of a payment to Mr. Mulcaire look less like a settlement and more like hush money. According to Reuters, Mr. Hinton had been avoiding the U.K. and associations with News International ever since. Rupert Murdoch, News International CEO Rebekah Brooks, and News Corp. heir apparent James Murdoch (not long ago a rogue himself with a scrappy independent hip-hop label) have already been called to testify before Parliament. What would happen to Mr. Murdoch's flagship U.S. newspaper should his longtime deputy Mr. Hinton be called as well? Dow Jones did not return request for comment.
The former News of the World reporter tweeting pseudonymously as Marie X. describes herself as "axed to save the skin of Rebekah Brooks"
IT LOOKS LIKE THE HUFFINGTON POST cribbed a page from the News Corp. blame-game playbook this week, suspending indefinitely a 20-something writer named Amy Lee after an allegation in AdAge that the Huffington Post's practice of aggregating (or, in company parlance, "rewriting") other news source's articles was unethical. AdAge media columnist Simon Dumenco used Ms. Lee's summary of one of his own articles to show that the Huffington Post drew more traffic away from AdAge than it directed to them.
Far from blaming the rogue reporter, Mr. Dumenco went straight to the top. To Arianna Huffington, he had this to say: "The extent to which you're trying to buy respect by poaching editors and writers from The New York Times and other traditional news operations (with all that funny money AOL chief Tim Armstrong has so unwisely put at your disposal) has gotten downright embarrassing."
Business Editor Peter Goodman (poached from The New York Times and written about in these pages last week) wrote Mr. Dumenco to let him know the problem had been excised, and Ms. Lee had been suspended indefinitely.
Asked why Ms. Lee was singled out for what many consider an institutional problem, Mr. Goodman told Adweek, "[I]n Amy's case we are concerned that a strong message needs to be conveyed, that we need to distinguish ourselves with original reporting."
To Awl editor Choire Sicha, it looked like Ms. Lee was a "nice child thrown under the bus at Huffington Post."
AT THE NEW YORKER, the legacy of a long-dead rogue operator—"father of the C.I.A." "Wild" Bill Donovan—has brought both military and New Yorker obsessives out of the woodwork. Mr. Donovan founded and ran the pre-C.I.A. wartime intelligence Office of Strategic Services (O.S.S.), which employed Julia Child, Arthur Schlesinger Jr. and many other cultural noteworthies, for research and espionage. A review of a Donovan biography written by Louis Menand and published in March proved—to a certain old guard of New Yorker readers—almost as controversial as Donovan himself.
According to O.S.S. Society president Charles Pinck, Mr. Menand's four-page review (which, in the style of many New Yorker book reviews, takes the liberty of writing about the book's subject matter ad hoc) was riddled with errors. Like that mobster Lucky Luciano served in the O.S.S. ("He was military intelligence, not civilian" Mr. Pinck said) or that Donovan may have gotten his nickname from a reckless Detroit Tigers pitcher with the same name (that he earned it in World War I is "well documented," he said).
As a lifetime New Yorker subscriber and reader, Mr. Pinck was incredulous. "It's the New Yorker fact-checking department," he said with dismay. "It's legendary."
Failing to get a response from David Remnick, Mr. Pinck published an op-ed in The Harvard Crimson, the student newspaper of Harvard University, where Mr. Menand teaches.
The book's author, Douglas Waller, also noticed errors and wrote to The New Yorker, though with admittedly lower expectations.
"Usually they don't publish letters responding to reviews," Mr. Waller told Off the Record. "Most authors just suffer in silence." He was quick to add that factual errors are common in book reviews.
"If I wrote a letter every time there was an error in a review, I'd spend all my time at my typewriter," he said. He added that it was the longest review he'd ever received, and his first in The New Yorker.
"Our feeling is that there's a lot of latitude for interpretation in a review piece," head fact-checker Peter Canby told Off the Record. He forwarded Mr. Pinck's letter to the piece's fact-checker, who cross checked the allegations with earlier articles and books on the subject, and they determined no changes were required.
"As I recall, there were not a lot of straight factual claims in his Crimson piece," said Mr. Menand, who has never met or corresponded with Mr. Pinck.
Mr. Pinck's investment in correcting the record on the O.S.S. can be easily traced: his father, Daniel Pinck worked as an O.S.S. agent in China.
Indeed, some of Mr. Pinck's objections were subjective. He took issue, for instance with Mr. Menand's assertion that "Donovan also recruited a number of young Ivy League graduates, who signed up mainly for the perks and whose presence gave the organization the nickname Oh-So-Social."
"What were the perks?" Mr. Pinck fils wondered. "Going behind enemy lines where if you get captured you might get killed?"
That description does, however, sound a little like The New Yorker. Mr. Waller confirmed that Donovan called the O.S.S. his "league of gentlemen," despite its having 4,500 women, and recruited "from fine upstanding families and then taught them the dark arts."
In fact, Daniel Pinck worked at The New Yorker too, after the war, as a legman for A.J. Liebling, he told Off The Record. The doubly expert Mr. Pinck said of the piece, "It would have taken 10 years off of Harold Ross's life if he was alive. He was a task master of fact-checkers."
"We run a very small number of letters," said Mr. Canby, who, time allowing, sometimes responds to fact-checking inquiries with letters. Coincidentally, Mr. Canby's father also served in the O.S.S.
As for the perks of working for The New Yorker, some from the elder Mr. Pinck's era—escorting the nearly blind James Thurber to the Algonquin—are no longer relevant, while others—playing Time magazine in softball—remain.
"Every publication has an apotheosis. Then who knows what happens, except that only a few people know what apotheosis means," he said. One consolation, however, of Mr. Remnick's version? "You can meet some interesting New Yorkers, including Lady Gaga," Mr. Pinck, 87, added.
AS IT WERE, Off the Record had thought recently that the man responsible for Ms. Gaga's inclusion in The New Yorker, pop music critic Sasha Frere-Jones, had an, if not a roguish, at least an unorthodox position at the magazine. Since December he's been publishing lengthy stories on Bruno Mars, PJ Harvey, and Beyoncé while simultaneously serving as editor to the culture desk of Mr. Murdoch's tablet newspaper, The Daily.
On Monday Mr. Frere-Jones announced he would begin blogging regularly for The New Yorker again.
"The Daily's now up and running, it comes out every day apparently," he told Off the Record. His arrangement with The New Yorker is that he can edit The Daily but his byline is New Yorker-only. "The New Yorker is easy-going and accommodating about these things," he said.
Not that he's planning on going rogue anytime soon. "I don't think they'd want me to do a 19-part series on vinyl or anything crazy," he said.