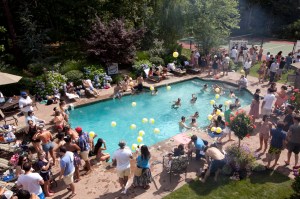 One sum of many a boozy, postfraternity fear, the Thrillist Hamptons pool party took place this weekend with much fanfare and drunken revelry. A party bus picked up a crew of young media bacchanalians at 11:30 a.m. outside of a Dunkin' Donuts near midtown. The group got off to a slow start after a delinquent underage guest was discovered among those gathered and then promptly kicked off the bus with his older brother, a co-conspirator in the affair.
"Who wants some Stoli?" yelled the effervescent hostess once the boozy bus finally got rolling. One particularly outrageous bus-rider, who answered only to Ravin' Dave, demanded all the shades be lifted. "Now we feel like rock stars," Ravin' Dave declared after the harsh morning light had flooded the bus.
Arriving at the estate around 2:30, the Transom had just over two hours to get our kicks before the party bus left the sun-soaked suburban paradise.
The backyard of a sprawling South Hampton home was open for the soiree. Two bars offered summery vodka cocktails—Stoli, of course—to guests who made periodic pit stops between stints in the pool. Many partygoers took a dip trying to cool down in the sweltering sun.
Complaining about the heat, a young gent from Yelp pointed to a caterer, wearing a long-sleeved chef's uniform, sweating away over burgers on an open grill.
"Not as hot as that poor bastard … And he's probably making minimum wage!" he chortled.
Shirtless men in madras shorts checked out bikini-clad girls and showed off their "ink" (including several Italian-themed tats à la The Situation). A feeding frenzy was sparked when burgers and hot dogs were finally brought out. All Hamptons pretense was forgotten as hungry guests grabbed patties with their bare hands, burger grease running down their arms. "I almost had to fight a bitch," writer Olga Boyko claimed.
The trip back was much less animated on the party bus. Some brave souls took swigs of vodka, but most rested and talked tipsily about their afternoon. A neighboring Thrillister named Dave showed off his forthcoming T-shirt designs, including one choice V-neck with a stark, instructional message emblazoned on the front: "Get Famous, Make Money, Repeat: Children of Privilege, Children of Privilege, Children of Privilege."